sapp travels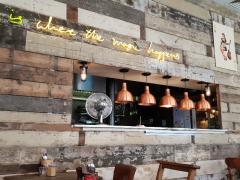 1st Aug 2018 - Paris & London 2018
Harry Potter Day!
We woke up very excited about our day. It was Harry Potter day!. We had tickets to go and see Harry Potter and the Cursed Child, a two part play written by JK Rowling, Part 1 was on at 2pm for 2 hours 40 minutes, and then Part 2 at 7.30pm.
To start our day we googled good breakfasts nearby and went and found a café that sounded the g, Cambridge Street Kitchen. We placed our orders and logged onto the free Wi-Fi and had a nice cruisy breakfast. The grainy granola and fruit was really yummy (no coconut yoghurt). We walked a different way back to the hotel, via the train station to top up our oyster cards and then back to our hotel to shower and get ready to go and meet Joseph for lunch and the play (s).
We met right out the front of the Palace Theatre and headed into the box office to pick up our tickets (we had ordered and paid for them when the holiday planning was happening). Joseph was starving and Mum and I were peckish, we found a place to eat called The Cambridge, which was funny given we had breakfast at Cambridge St Kitchen, very close (opposite) the theatre where we got drinks and food. They had a very impressive vegetarian menu and Mum suggested coming back for dinner instead of the Coach and Horses where we had made a booking yesterday. We kind of laughed it off.
Lunch was good, Joseph had a chunky beef and ale pie with mash and vegetables, only they forgot the mash and that was delivered late (after being asked for) with apologies and an offer of a free drink. I had the salmon nicoise salad, which was pretty damn good, not technically a nicoise salad, but good nonetheless. Mum had a goats cheese and beetroot tart with salad that looked amazing.
From our table we could see the theatre and there was a very long line of people out the door. It went all the way down the street and around the corner. Eventually we knew that we would have to go and join the queue, they do love a good queue in the UK. The line moved quickly and as we had no bags on us we were able to get into a shorter line (once we got to the front of the line, but information that would come in handy for the line-up of Part 2), we went through the security scan and in the doors.
First things first, Joseph pointed out he programmes, anyone who knows me knows that I am a sucker for a programme. And this one was a bargain! Only 5 pound! I got the programme and we headed downstairs in the direction of the door for our seats. We stopped at the fabulous looking bar and bought a pre theatre champagne each and a cheers here we are. Of course, in Europe you can take your drinks into the theatre (aahhh the civilisation of it all). We had great (GREAT) seats and we settled in. Took photos and soaked in the atmosphere. The theatre was packed. We were so lucky to not only get tickets, but to get GREAT seats was an absolute win!
Two hours and 40 minutes later and Part 1 was finished. To quote the little girl in front of me "Dad that was soooo good, I don't want there to be a break until we see Part 2, not even 5 minutes!" She was right, it was really great. The special effects were magnificent, the acting was fabulous and the set and the costume and everything, fantastic.
We had dinner booked for 5.30 at the Coach and Horses so we were quite early getting out of the theatre before 5. We decided to go and see if our table was ready and if not we would have a drink while we waited. We were ushered upstairs and after a look at the dining area, which appeared to be some sort of high (not very high) tea in a warm box of a room with no atmosphere and tables and chairs in rows somewhat like a classroom. We cancelled our booking and reversed out of there, down the stairs and back out onto the street. Latched onto Mum's suggestion from lunch time and went back to The Cambridge, as we walked in the door we could see that the place was heaving and there was no going in there, but there was a dining room upstairs, so up we went. The dining room was pretty busy, but they had room for us, we took a seat and proceeded with the what will we have process. Joseph had a steak with chips and salad, Mum had a lentil cottage pie topped with sweet potato and vegetables and I had a salad with some sliced steak (average), Mum definitely had the pick of the meals. We had a nice bottle of red with dinner and spent the time talking about everything from reviewing the play so far to reading the dessert menu and watching what everyone else had on their plates.
We could see the line to the theatre was growing outside, but we knew that there was the short line for no bags option, so we made the most of our table.
When we had finished and paid, we went back down to the no bag line and headed into the theatre. And there it was staring at me as I walked in. The Part 2 programme! The big colour photo programme for 12 pound. Obviously I wasn't going to not get it. So of course the 5 pound programme was a trap. I handed over my money and took my prize.
The line for merchandise was epic, all the way down the stairs and around a corner, crazy, I wasn't going to entertain the thought of needing merchandise.
Part 2 was just as good as Part 1, and we had a great time. We left the theatre just after 10 p.m. and strolled through the crowds of the very alive and busy streets of night time Soho. Crazy busy and on a Wednesday.
We walked to a bus stop quite some distance away and ignored the buses for a while as we were busy talking and saying goodbye. Joseph would be heading back to Paris the next day and we had plans to go to Banbury. With the distance between Paris and Perth, it would no telling when the next visit opportunity for us would be.
After our final hugs goodbye, we boarded the bus and went back for our last (thank god) night at Tophams Hotel.
Diary Photos
---