sapp travels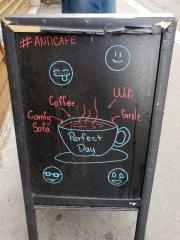 29th Jul 2018 - Paris & London 2018
VIP'ing and the Tour de France
We woke up a bit hungry and felt that today we needed a substantial breakfast. Mum suggested a café that she had been to before called Holy Moly, it is a Melbourne inspired café in Paris! Go figure. They even have vegemite on the menu. But not avocado. Avocado is not on a lot of menus in Paris, it is just too expensive. The café was nice, and the menu looked okay. The service was fine and food was just okay. But it did the trick and my poached eggs on slightly warmed not really toasted bread was fine. The iced tea was weird.
The morning was nice, the weather was cooler again, heading for a top of 28, and the walk to and from breakfast was a good way to start the day.
We headed back to our apartment for showers and prepping for the big afternoon ahead as we were lucky enough to have secured VIP tickets for the final stage of the Tour de France on the Champs-Élysées. We were very (and by very I mean very very) excited. We messaged Joseph to let him know what time we were heading into the avenue and he swung by the apartment en route and we all went in on the metro together.
We joined the queue, got security checked and scanned and arrived at the tent of fancy people by mid-afternoon. Catering was underway and we got a glass of champagne and checked out the food options. In an oversight we hadn't actually eaten anything for lunch, so the oodles of food was of interest. It was however, all sweet things, a high tea of cakes and slices, pancakes and ice creams. None of it was of any interest, but we need to have a little something to get by.
Our street side location was brilliant, just past the finish line on the other side of the road. We had missed getting a table but the great thing about Europe is that their safety rules are a little less stringent than those here in Australia and we were able to jostle for fence side action while still holding champagne glasses in hand. Apparently as adults we can be trusted to not throw things on the road or at cyclists. It was so much fun being so close and soon it was time for the parade and then the riders to come through for their last 8 laps of the race.
The crowd was jolly and very excited. Everyone was cheering for someone different and the atmosphere was electric. We made friends with anyone next to us, always wise when they are bigger than you and you are knocking elbows and hips. And the afternoon passed by in a fun vibe. Joseph had some cycling specific questions which I was thrilled to be able to answer, it made a sweet change as he had spent the last couple of days answering all of my questions on Paris and hospitality in Paris. So I got to feel a bit knowledgeable in exchange.
It was exciting to watch the cycling, it was so good to see Geraint Thomas come away with the overall win, it was great to see the battle for the final stage win and to see Alexander Kristoff take it. It was brilliant to watch the media during the race but more so straight after. They really are vultures. They are extraordinary in the way they just pounce on in, for the best angle, the best shot, the first shot, the way that they ignore anyone trying to bring some order and structure to the whole affair, it was fascinating to witness it.
Our view of the podium was blocked by a large moveable set of steps that was rolled out for the journalists/photographers to climb up on en masse, which meant we could only then see the podium on the big screen directly in front of us. But it was getting late, we were getting quite hungry and we decided that it was time to get moving. We were meeting Joseph's girlfriend, Maria, on the other side of town for dinner (later in the evening) but we thought it would be good to start heading in that direction. On the way out amongst the throng of people, a guy walking in front of me turned his head in response to something that was said, I recognised him straight away and forgot to think it and instead said, 'Oh look, it's Cadel Evans', he turned around and we had a chat about Australia and dogs and things. He was really nice to talk to (as he has been on other occasions when I have fan-girled him), quiet and reserved, but nice and a great sport. We let him go (it would be rude not to) and we then started walking. I was under the impression that we weren't walking very far, buuuuuttt, Mum and Joseph tricked me. So we walked many many streets toward our dinner destination.
All up we walked about six kilometres to dinner, which isn't a huge amount compared to what we had walked over the last few days, but today I wasn't loving it. Thankfully though we saw many amazing sites. We snuck up on the Louvre, that is, we were walking through a garden and I said this reminds me of where the Louvre is, and Joseph, smartie pants, said that one over there? And pointed at the Louvre. Well that was a fun time of people watching and photo opportunities. We went past a shop with my name on it, spelt a little wrong Chanon, and had a picture of a woman on a bike, cool enough to take a photo, we walked through a red light district (no photos), where the prostitutes were a great disappointment, they were underdressed and scruffy, and really didn't look like street workers at all. They kind of looked like grumpy, badly dressed, ill-mannered women. They also looked a bit scary, which apparently they are by all accounts.
We got to our restaurant, Bonhomie, at about 8.15, we were a bit early, but the staff knew Joseph and they found us a table very quickly. Joseph got them to put his phone on charge so that he could message Maria and let her know that we were early. While we waited and read the menu, a glass of champagne pre dinner, welcome to the restaurant drink was given to us all. And we sipped and talked and read the menu. Before long Maria had arrived, food decisions were made and ordered and we spent a lovely evening eating some fantastic food and lovely wine.
After dinner, we were a little full, and it was time to walk some more. The blisters on my feet were not enthralled with the ongoing walking, but my co-walkers were kind and we adapted the pace. Joseph and Maria took us to a cocktail bar (of course), Le Syndicate, where they knew the staff (of course) and ordered us all a drink. Now the drinks were all a little strange. Joseph and Maria agreed that the drinks there are never great, so of course we asked why, well apparently the staff are nice. Which they were. Very. The drinks, not so much. So we didn't drink them we just played with them, sipped each other's to see if any of them were nice. They weren't. As we were getting ready to leave a round of shots was delivered to the table. Family Shots, apparently. Needless to say the pot plants on the tables at Le Syndicate may be dying by now from alcohol poisoning. Better the plants than us.
It was after 11 by now (how dies that happen all the time!?) and we started to walk home, which wasn't far, so they said. It was more than far enough. On the way home we saw some more badly dressed prostitutes and we went via a chemist as Maria had decided that there was a particular band aid that I had to have for my blisters.
Joseph and Maria walked us all the way home to our apartment, we said our goodbyes and farewelled Maria as we wouldn't be seeing her again this trip and made our way up the stairs to another late night to bed. We were quite tired after a fun filled wonderful day.
Diary Photos
---