sapp travels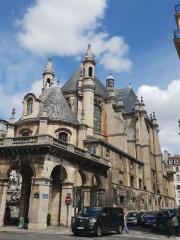 30th Jul 2018 - Paris & London 2018
Last day in Paris
A lazy start to the day. My body was protesting against another early morning and while it doesn't happen often, I have learnt that sometimes it is worth listening to. I had "sitting at home" things I wanted to do, so it suited me, and I spent the morning, organising my many photos and getting some of my travel diary documented.
Mum was happy for a little bit of a lazy start but eventually she headed out for a walk to her "local" for a coffee and pain au raisin.
It was a nice way to start the day and as the morning wasn't too warm, with the window open 'our' little apartment was quite comfortable. But this was our last day in Paris! Mum and I wanted to make the most of it and we had decided to get as many touristy things done as we could, so it was time to get moving. We thought that it would be a good day to finish Paris with a river cruise, so we started walking. I was well prepared, with lots of good band aids on all the blisters, socks and shoes and spare band aids in my bag.
We stopped early in our walking day at a cafe and bought a salad wrap to share, we didn't need much just enough to get us through all the walking for the day as we had a plan for a cheese and wine snack at 6pm. On the day of our champagne tour our guide, Guillaume told us about and amazing cheese and wine bar in Bastille, it sounded amazing and the Trip Advisor reviews were outstanding. So really our whole day we were gearing ourselves to wine and cheese.
We touristed like a boss. We wanted to see as much of the 'we are tourists" things (that we hadn't already seen) as we could. We walked and we walked and we walked. We took photos of everything. We did a cruise on the River Seine, we went to the Louvre (again). We took photos of people taking photos of people in front of the Louvre. Where they were standing on a block with their hand up on nothing so that in the photo it would look like they had their hand on top of the Louvre. We saw a police chase on foot through the Louvre. We saw a couple of wedding parties having photos taken in the most random places - people just love getting married in Paris. We walked to the Eiffel Tower, only to visit, both Mum and I have done the tower before, so this was just a check in and say hi to the tour kind of visit. And to take lots and lots of photos of it of course!
After many hours of tiouristing and walking we started the journey toward home, well actually toward the cheese and wine bar, it was scheduled to open at 6 and we were ready for a cheese and wine break. On the walk back, we stopped at The Louvre (yet again) for an amenity stop, it was at this point that Mum suggested that we catch the metro for the rest of the journey, our tired feet and legs were getting more and more tired and we were pretty much done in. We did end up walking over 20 kilometres that day, so the tiredness was justified.
We got off the metro at Bastille and checked our map to find the wine and cheese bar. We got there at 6 and the door was open and the Open sign was in the window. Yay! Inside we were "greeted", net, with a less than friendly look. We said hi, are you open, he said No. Okaaaayyy. So what time do you open. 6. I said, it is 6, he just looked at me, and then said we will be open in 10 minutes. We were dismissed. We sat out the front for a few minutes and then decided that the cheese and wine place could take a leap. We weren't really interested in the unfriendly average service and felt that it probably wouldn't lead to a great cheese experience. To top it off I had developed an itchy rash all over my legs. The first time Paul and I went to Paris in 2009, I got the same rash. It seems that I am allergic to Paris! We decided to go to Candelarie, the bar below our apartment. On the way we bumped into two of Joseph's friends and stopped to have a chat with Emma and Whitney. Eventually we got to the bar, in the absence of a wine list, and not wanting anymore cocktails, we ordered a beer each and ordered the tortilla chips and salsa. And we were told that the Mexican was having a Columbian night so there were no tortilla chips and salsa orders being taken that night! Of course, right! So we had a beer.
While drinking our beer and chatting with Emma who had turned up at the bar, we messaged Joseph to say that we were going to go to La Mary Celeste for dinner, a bar around the corner, where of course another one of his friends works. Joseph said he would meet us there at 8.30.
As we were headed to London at the crack of dawn the next day, we went upstairs to our apartment, showered and packed all our gear and then went to La Mary Celeste. Being in with the in crowd has its advantages and when Diane saw us walk in, she made sure that within minutes we had prime seats at the bar. Wine list and menu were provided, negotiations with Diane on what could be made vegetarian. It was all tapas share plates and we got our order in. Joseph was not far behind and we then ordered a bottle of wine, added some additional food, including the two things that Joseph said were a must have (not for Mum as they weren't V food) and the devilled eggs and fried duck hearts were ordered. The devilled eggs were pretty bloody amazing. I never knew that devilled eggs was a thing that could be raved about. But these ones are very rave-able. I was dubious on the diuck hearts and hesitant to try them, but I closed my eyes and gave it ago. Yep, they were pretty good!
In line with the ongoing theme of hanging at bars in Paris, Diane made us her signature cocktail to have and also gave us some tasters of others that she was making. And the bucket of bread that we were given was without a doubt the best bread ever. Ever ever. It was a lovely evening and a great way to finish a fabulous day and a nice end to my short time in Paris.
We said goodbye to Diane, and walked the 3 minutes back to our apartment. By this time all of the regular crew of Joseph's friends were outside on the street. So I got to meet a few more friends and say hi and bye. It was already after 11 and so we kiss-kissed, left right, everyone and said goodbye, tole Joseph that we would see him at 5.1.5 in the morning so that we could go to the airport for our 7 o'clock flight to London.
Goodnnight Paris, thank you for such a brilliant couple of well packed days.
Diary Photos
---