sapp travels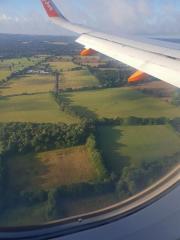 31st Jul 2018 - Paris & London 2018
Hello London
Tuesday morning and we were up nice and early, actually if we were at home, it would be a little bit of a sleep in, but now that we were on Paris time - 5 a.m. was very early! We got up, finalised packing and Joseph arrived and by 5.20 we were all downstairs waiting for a taxi.
The drive to the airport, the check in and boarding was all painless. Once we were in the air, Joseph settled straight to sleep, Mum read and rested and I, fighting fidgeting and restlessness grabbed Joseph's book and settled into reading Sputnik Sweetheart. Of course, being only a 1 hour flight means I only got 3 chapters read and had to hand the book back. Next kindle purchase….
We hit the tarmac at Gatwick at 7.25 and spent forever in passport control. UK passport control is always such a delight. This experience was one of the least painful, got our luggage and headed to the train. Trained into London and while on the train Joseph looked for a café for a decent breakfast. At Victoria train station, we took out luggage to Left Luggage for a day as we couldn't check into our hotel until 2 and had already read on the reviews that they wouldn't take our luggage. Then we went in search of the café – No. 11 Pimlico Road.
The café had a great décor and was nice and bright. The menu, while seemingly extensive was okay and the service was interesting with a lot of attempted on selling with each menu item ordered. I opted for the Bircher muesli with fruit, which, much to my disdain was served with coconut yoghurt rather Greek yoghurt. I am really anti the everything coconut trend. But the yoghurt was artfully plated in one scoop not mixed in so I was able to work my way around it. And yes I do like actual coconut.
After breakfast we decided to go and say to reception at our hotel as it wasn't far. We had seen a few atrocious reviews on the place pop up in the last two weeks and I was starting to dread our stay there. Suffice to say the woman on reception, Sonja, was quite unpleasant and barked at us that we could check in at 2.30 (that was after she finished barking at someone who she referred to as Lady, as in, what do you want me to do about it Lady, on the phone). We walked away with joy in our hearts at the anticipation of going back there later in the day.
We found our way back to the train station so as to have our bearings and then Joseph went his way and Mum and I headed to Oxford Street for a bit of window shopping and possible real shopping. Joseph had arranged to stay at a friend's place and was waiting to hear from her and had a museum he wanted to go to while waiting. We heard from him later that he had booked into a hotel room instead and would see us later for dinner after he had had a much need sleep.
Mum and I spent quite a few hours in Oxford St, trying on a lot of clothes and bought a few. We also discovered that interestingly if you take the time at Marks and Spencer you can pick up someone okay stuff. Finally we jumped back on the tube to head go and check in at our exciting to go to accommodation. Picked up our luggage and dragged it around to our Hotel. Tophams Hotel (don't stay there is my tip).
We went through an exhausting and painful check in (with a new unpleasant woman) and finally got to our room. Not amazing, but it did have air conditioning. A shower and a refresh and we were back out the door, we didn't need to spend any additional time in the hotel. We wanted to do a reccy of public transport to get the Palace Theatre in Soho as we had a show on the next day. We walked to bus stop Q and caught the number 38 to Soho. Checked out the theatre and then went to the Coach and Horses pub nearby where we were planning on booking for dinner for tomorrow night as all reviews had pointed us to this pub for the best vegetarian pub food in London. We went for a drink and vibe check. The vibe wasn't in our face immediately, but we stayed and had a drink.
After a while a woman asked if her and her friend could use the spare chairs at our table and so we had some local company. Some conversation took place and another friend of theirs joined us and before long it was apparent that we were sitting with a veeerrryyyy interesting party of three. Some strange dynamics and some "interesting" (weird) conversations. Eventually Mum and I shared the look of let's get the out of here and we exited stage left. By now we were rather hungry as breakfast was a long time ago. We messaged Joseph to let him know we were in search of food and would advise of our final destination. We settled on an Indian restaurant that had a good vegetarian menu. The waiter found us a table for two and assured us that by the time Joseph arrived that he would have us at a table for three. He was good to his word and we had only just landed in our table for three seats as Joseph walked through the door and joined us.
Wine ordered. Food ordered. Talking underway, sharing stories of our day.
Again, time in Europe when the daylight stays with you until after 9p.m, it is so easy to lose track of time. It was a beautiful evening and well after 10 as we walked through the streets of Soho after dinner. Joseph walked us to our bus stop and we ran and jumped on the bus with cries of 'see ya, talk tomorrow, meet for lunch......', as the bus appeared from nowhere.
We got back to our dodgy divey hotel, that had a strong undercurrent of dodgy crime surrounding it and made it to bed just before tomorrow arrived.
Diary Photos
---