ScouseLeeM on Tour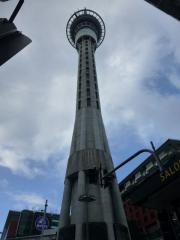 19th Jan 2017 - 26th Jan 2017
New Zealand Chapter 1: North Island
Nineteen years in the making...some time after my backpacking year in Australia, I finally get the chance to tick New Zealand off the bucket list. Having somehow bypassed this wonderous land all that time ago, key objectives for this trip were the Waitomo glow worm caves, Milford sound, and a chance to get up close and personal to the glaciers...
To start the trip, a few days gently meandering around Auckland soaking up a very British style mix of sun and downpours, taking a harbour cruise, and then a full day out to visit the Hobbiton movie set/hobbit holes plus the Waitomo caves. Hobbiton was fun, but the Waitomo caves were truly wonderous - sat in silence on our little boat, staring up in awe at what appeared to be the most star-filled sky you could ever wish to see...also an unscheduled stop at an Antarctic experience/aquarium, when it pissed down rain during a hike along the coast. At least it was a chance to see some penguins ahead of my intended Antarctic expedition (whenever I find a buyer for my kidney).
Following this, it was time for our pack to assemble for 15 days touring North and South Islands. And what a pack of amazing individuals it was, would truly put the Avengers to shame:
Chief Bravefart - Andrew, our Scottish trumping and snoring champion
Catwoman - Catrin the Welsh Ironwoman
Juliet Bravo - Sarah, the (former) long arm of the law
Possum Peter and Adrenaline Junkie Norann, the dynamic Anglo-Irish duo
Lady of the Rings - Elizabeth, our human dictionary and resident J R R Tolkien fanatic
Co Captain America/MC Star Spangled banner - Meredith, our all American gal, thankfully not living up to all American stereotypes
FBI's Most Wanted - aka 'Bessie' amongst many names and aliases we discovered later. Allegedly a Canadian teacher..
Speedy Gonzalez - Veronika, Lithuanian greased lightening. Wind her up and watch her go..
The German Smoke Machine and Swiss Miss - Nina and Hannah, our font of foreign swear word entertainment
The Pocket Rocket - Marie, our trusty Kiwi 'Gandalf' leader and entertainment coordinator supreme
After a fairly civilized meal on our first night together, little could I imagine what was to follow over the coming weeks. A very harmonious, chilled out group with at times a rather risque British style 'Carry On Kiwi' sense of humor, made for a very memorable trip..
North island highlights started with the Coromandel Peninsula. Trying in vain to dig a 'jacuzzi' at Hot Water Beach, before simply stealing someone elses, we stayed at gorgeous lodgings in Hahei, taking an afternoon hike to the beautiful Cathedral Cove.
Following this it was off to Rotorua, stopping for a team photo at a ruddy big bottle of L&P soft drink in Paeroa (as you do). A variety of activities ensued, I took the chance to visit the rather stinky Hells Gate geothermal park, and take a head to toe dip in volcanic mud and sulphur pools. Having been advised not to wear my own swimming shorts due to the lingering sulphur smells, ended up hiring a pair that proved to be a size too small so left me looking like some dodgy budie smuggling twerp. Key fun fact of the trip: a human body can be fully disolved in Hells Gate mudpools in 3 days, including teeth and bones! Others in the group went white water rafting, zorbing down a hill, having relaxing massages or just chilling in town.
We spent the night at the Tamaki Maori Village, living in a traditioanl communal hut, where the group got to experience Chief Bravefarts tuneful snoring all night long. Before thtat delight, we were ritually humiliated with a group rendition of 'I would walk 500 miles' to introduce us to the locals, taught a local Maori song to perform that eveing before a large crowd of tourists. Additionally the blokes in our group were 'taught' (I use the term loosely) the Haka - apparently my tongue action was quite good... The girls were taught other dances/games to ensure humiliation was evenly spread. Following a feast of a dinner, it was time for a hot tub soak in what felt like liquid magma with Catwoman and the German Smoke Machine, a few drinks in front of a roaring fire then a sleepless night near a Scottish bulldozer.
More geothermal visits at Wai-O-Tapu including a visit to Lady Know Geyser, followed - much team debate on pronunciation of 'geyser' took up most of the morning. Cockney 'geezer' was popular, but ultimately over ruled...after a stop at Mt Ruapehu, it was on to the remark - a - bull -y entertaining town of Bulls en route to Wellington.
After a quick tour of Wellington with the pocket rocket, some of us went on the cable car and took a surprisingly entertaining tour of the botanical gardens, normally not my destination of choice. I'm sure this should have actually taken about 30 minutes, but felt like decades as we wandered in what seemed liked circles aimlessly and took comedy gold photos. After this I took a trip to the Zeatopia nature reserve to take in some bird and lizard wildlife plus spectacular scenery, and a visit to the Te Papa museum (with an amzing Gallipoli exhibit created by Peter Jackson), before an untimely migraine attack curtailed my North Island experience...
South Island here we come...
Diary Photos
---