ScouseLeeM on Tour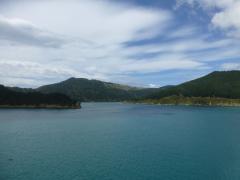 27th Jan 2017 - 1st Feb 2017
New Zealand Chaper 2: South Island pt I
After an early morning ferry from Wellington via the Cook Straight/Marlborough Sounds to Picton, we headed towards Hamner Springs. Not our original intended route, but necessary following last years earthquake in Kaikoura, and so shelving any plans to swim with dolphins there.
A stop for wine tasting (or smelling in my case) at the St Claire vineyard, was followed by some more appealing cheese and chocolate tasting nearby - the latter drained most of the group of some cash, as the macadamia chocolate brittle and other assorted treats were just too good to resist. An emergency stop in Murchison for dinner before arriving in Hamner Springs for a full, event packed day.
Next a day of pleasant sunshine - lazing in the variety of hot springs and sulphur pools, an early morning lung buster hike to Dog Stream Falls (for most of us, while Veronika sprinted ahead to pretty much the peak of Mount Cook!), and a highly competitive afternoon of crazy golf. Split into teams, we (myself, Co Captain America, Catwoman, and the Lady of the Rings) kicked ass, while Chief Bravefarts shamed losers failed to meet his pledge to streak through the main street. After a pleasnt day being baked in sunshine, a relatively early night for all - except Bravefart - a brief 'breath of fresh air' at 11pm took 3 hours after running into a raucous hen do at the bar next door.
Onward to Franz Josef for a glimpse at a glacier - unfortunately from the ground only, after all helicopters were grounded by bad visisbility up top. So instead a day made up of kiwi bird house visits, hot tubbing with a group of dirty dorm backpackers and their remarkably candid tales of STD sharing, and chilling at local bars and cafes... a late night pitch black walk to a forest clearing to view glow worms was not exactly up to Waitomo standards, I'd been well and truly spoiled previously.
Next up the thrill capital of Queenstown, with stops at Lake Matheson mirror lake, Thunder Creek falls, Lake Wanaka and Lake Hawea. A slap up meal at a Texas themed restaurant set us up for a full day of high octane fun...
Or so we thought. All did not start well, with the highly anticipated canyon jet boating cancelled all day due to high water levels. Eventually we managed to book an early morning re-run for the next day on our way out of Queenstown, and hoped for the best. The English, Scottish, Welsh trinity then took to the skies via cable car for breathtaking views of the area and clear blue lake Wakatipu, before embarking on a (near suicidal) bout of street - luge...
On reflection, hurtling down a steep mountain road on a flimsy tray on wheels, in a pair of shorts while refusing to apply the brakes may not have been entirely prudent. But it was bloody great fun, I'd do it again in a heartbeat. Race 1 on the gentle course went fairly to plan, with some excellent Formula 1 style defensive driving securing a solid second place. Race 2 however, on the rather faster, no holds barred course turned out to be a kamikaze mission. Leading from the front, the decison just to go flat out proved fatal for my right leg at the second last corner - clipping a curb and wiping out at top speed, I now have my very own temporary tattoo with a significant area of skin completely removed from my leg and a large open wound that is refusing to heal, with a bacterial infection to boot. Hey ho, a 'legendary' Ferg burger' for lunch (where queues can be 1.5 hours to be served) helped ease my distress, while our waitress even offered some first aid.
Time for more adrenaline pumping, so off with Speedy Gonzalez back up the cable car, to take on Zip-trek - 6 lines through the tree canopies all the way to the bottom, including the steepest, fastest descent in the Southern hemisphere. Highly entertaining, travelling in a manner of poses including upside down on the various lines, and some very smutty jokes being shared by our guide Lauren. The evening was completed with a slightly lower adrenaline mix of gelato (served by a young Scouse bird that gave me a free scoop upon hearing her first Scouse accent in 18 months), the worlds sweetest hot chocolate ever, and a $20 rump steak meal on the banks of the river, in what rapidly started to feel like Actic temperatures - huddling for warmth in blankets, we looked like a retirement home of oldies waiting to suck soup through a straw...
Up early, jet boating was thankfully on, and a key highlight of the trip - travelling through the canyon at 80km/h, skimming walls and rocks and pulling 360 degree spins for what felt like hours, I can't recommed this more highly, and would happily have repeated. The noises eminanting from beside me resembled a scene from When Harry Met Sally, so I am sure others in the group have similar feelings. With that, onward to Milford Sound...
Diary Photos
27th Jan 2017 No Title
No Description
---
27th Jan 2017 Dog Stream falls
No Description
---
28th Jan 2017 Crazy golf action shot
No Description
---
28th Jan 2017 Winning team, eat my club...
No Description
---
28th Jan 2017 Dog Stream Waterfall
No Description
---
28th Jan 2017 Hanmer Springs golf
Hanmer Springs golf
---
29th Jan 2017 No Title
No Description
---
29th Jan 2017 Seals - Cape Foulwind
No Description
---
29th Jan 2017 No Title
No Description
---
29th Jan 2017 Dolmite Blowholes
No Description
---
29th Jan 2017 Pancake Rocks
No Description
---
29th Jan 2017 No Title
No Description
---
29th Jan 2017 Hokitika Beach
Hokitika Beach
---
29th Jan 2017 Franz Josef
No Description
---
29th Jan 2017 Kiwi
No Description
---
29th Jan 2017 No Title
No Description
---
29th Jan 2017 Glacier
No Description
---
30th Jan 2017 No Title
No Description
---
30th Jan 2017 Cancelled heli hike - fake those selfies!
No Description
---
30th Jan 2017 Mirror Lake
No Description
---
31st Jan 2017 Must have travel read
No Description
---
31st Jan 2017 No Title
No Description
---
31st Jan 2017 No Title
No Description
---
31st Jan 2017 No Title
No Description
---
31st Jan 2017 Mirror Lake
No Description
---
31st Jan 2017 Lake Matheson
Lake Matheson
---
31st Jan 2017 Lake Hawea
Lake Hawea
---
31st Jan 2017 Miiror Lake - worlds biggest selfie
No Description
---
31st Jan 2017 No Title
No Description
---
31st Jan 2017 No Title
No Description
---
31st Jan 2017 Bloody big kiwi
No Description
---
31st Jan 2017 Queenstown
No Description
---
31st Jan 2017 Queenstown - Street Luge panorama
Queenstown - Street Luge panorama
---
31st Jan 2017 No Title
No Description
---
31st Jan 2017 Street Luge flying Scotsman
No Description
---
31st Jan 2017 Jetboat canyon
No Description
---
1st Feb 2017 Veronica's best side - ziptrek
No Description
---
1st Feb 2017 The amazing Spiderman - no limbs dislocated in making this photo
The amazing Spiderman - no limbs dislocated in making this photo
---
1st Feb 2017 Shotover Jet frolics
No Description
---
1st Feb 2017 Shotover Jet
No Description
---
1st Feb 2017 Queenstown ziptrek
Queenstown ziptrek
---
1st Feb 2017 OAPs huddle for warmth
No Description
---
1st Feb 2017 Gladiators - ready! Street Luge
No Description
---
1st Feb 2017 England v Scotland v Wales
No Description
---
1st Feb 2017 Skydiver
No Description
---