ScouseLeeM on Tour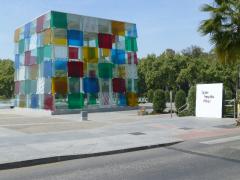 14th Apr 2017 - 15th Apr 2017
Gibraltar & Andalucia
A unique and worthwhile stop - not exactly on my bucket list, and remarkably close to the UK in more ways than one...
Somewhat better weather than those back home were enjoying, but with the benefits of English as the main language, and British pound as local currency. Cheap accomodation, pleasant beaches and unique sightseeing, all contained in a very small area that is easy to get around. A couple of days is ideal, any more than that might be a but much...
Undoubtedly a highlight for most tourists here are the monkeys, or 'barbary apes' that roam freely around the upper parts of the rock in 3 packs. We met quite a few on our walks, all of whom were totally relaxed mingling with the swarms of humans milling around.Several babies were around, including one brave soul that left its mum to climb onto our mini bus.
We had many views of the surrounding shipping straits from the top of the rock, and the sky was clear enough to see Africas second highest mountain over the water. We also visited St Michael caves - fairly surreal, an impressive collection of stalactites and stalagmites but with loud music and disco lights installed to jazz it up..not needed in my opinion, in fact somewhat spoiling the natural beauty.
A visit to the WW2 caves and the huge 100 tonne gun provided a reminder of Gibralatars strategic importance in war time. Lots of british pubs, fish and chip shops and English breakfast cafes give a pleasant reminder of home, while a short walk takes you across the border intp mainland Spain. All in all, a surprisingly pleasant few days - I would recommend a little stop here to anyone visiting Europe.
Diary Photos
---