ScouseLeeM on Tour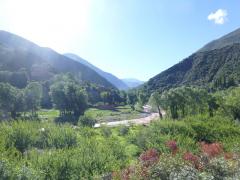 29th Apr 2017 - 1st May 2017
Marrakech and Atlas Mountains
Just a few days stopover here to sample another North African country, a continent I have only explored a tiny fraction of...
Hiking out in the Atlas Mountians and nearly dieing trying to climb to the top of the waterfalls while being practically thrown up the rocks by our local guide, we stopped for a glorious traditional Berber lunch of chicken and lemon tagine followed by oranges coated in cinammon. Visiting the 4 valleys of Asni, Ourika, Oukaimeden and Sidi Fares (which we could barely see, as covered in fog) and Takerkoust Lake, this was a very pleasant way to spend a few days.
Topped off with a day in Marrakech touring the palace, mosques, royal tombs, Menara gardens, main square complete with snake charmers by the dozen, and a long trek through the sights and sounds of the souks..and another healthy portion of chicken tagine. Next stop Lake Maggiore...
Diary Photos
30th Apr 2017 Ourika Valley
No Description
---
30th Apr 2017 No Title
No Description
---
30th Apr 2017 Natural fridge
No Description
---
30th Apr 2017 No Title
No Description
---
30th Apr 2017 No Title
No Description
---
30th Apr 2017 Ourika Waterfall
No Description
---
30th Apr 2017 Team break at Ourika
No Description
---
30th Apr 2017 No Title
No Description
---
30th Apr 2017 Atlas Moutains
No Description
---
30th Apr 2017 No Title
No Description
---
30th Apr 2017 Local wildlife
No Description
---
30th Apr 2017 Oukaimeden Valley
No Description
---
30th Apr 2017 Chicken tagine... beats KFC
No Description
---
30th Apr 2017 Charlies Angels at Asni Valley
No Description
---
30th Apr 2017 Takerkoust lake
No Description
---
1st May 2017 Menara Gardens
No Description
---
1st May 2017 Koutoubia Mosque
No Description
---
1st May 2017 Koutoubia Mosque
No Description
---
1st May 2017 Bahia Palace
No Description
---
1st May 2017 Facing Mecca
Facing Mecca
---
1st May 2017 Saadian Tombs
No Description
---
1st May 2017 Kasbah gate
No Description
---
1st May 2017 Djema El Fna
No Description
---