ScouseLeeM on Tour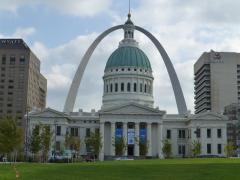 31st Oct 2017 - 2nd Nov 2017
San Antonio & St Louis
A few little bonus stops here, making the most of a few spare days on the way back to work..
San Antonio - an excuse to see what remains of the Alamo, and meander around the famous Riverwalk area, in glorious Texan sunshine. Took the opportunity to take a tour of the missions, a boat cruise, the sunken Japanese Gardens, and the Mexican 'market square, as well as the Tower of the Americas, built for the World Fair. A very pleasant city, friendly locals, and excellent fast food chain in Whataburger, so highly recommended.
More importantly, this gave me the opportunity to be as stereotypically American as humanly possible - watching the deciding game 7 of the world series of baseball at a Hooters restaurant on the Riverwalk, eating wings and yet more tater totts while scantily clad waitresses scurried around in hotpants. After what seemed to take 10 days, finally the game was over and a team from Texas declared 'world' champions - cue much hi-5'ing and whooping. Yee ha Houston...
St Louis - purely stopped here as it was a convenient place en route to my intended wildlife adventure in Florida, and a chance to see the St Louis Arch. Not a place I would recommend to tourists, unless you are driving through, as really couldn't find anything other than the Arch of note. Still very impressive for what it is - cruised the Mississipi on an old paddle steamer, then took the 'tram' inside the arch to the top, for a city skyline view.
This is definitely not for the claustrophobic! The tram is basically like being sealed in a coffin - no windows, steaming hot, and chunders sideways then upwads, sideways, upwards, taking 4 minutes to reach the top. Once there, generally it took 30 seconds to see what there was to see through narrow slit windows (a baseball stadium and the old court house), then time to suffer in the torture sweatbox again to return to ground level.
The overwhelming highlight of St Louis turned out to be a staggeringly good food truck parked on the main street leading to the Arch - yep, even more tater totts! This time, 'fully loaded' totts, smothered in cheese and bacon. I wil be lucky to see the end of 2017 at this rate...
Stopevers complete, on to Florida and Crystal Lakes to snorkel with manatees. That is, if I can still float after all these sodding tater totts, wings, steaks, and burgers.
Diary Photos
---