ScouseLeeM on Tour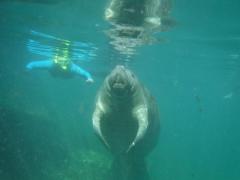 3rd Nov 2017 - 5th Nov 2017
Swimming with Manatees - Crystal Lakes & Homosassa
A bonus stop of the highest order, well worth anyones time if in Florida. In fact, even if not in Florida, worth flying there just to do this..
Never a bucket list item, but in retrospect it should have been. Heading out early morning after a safety/interaction briefing, we hit the river and spotted our first manatees within 2 minutes. Imediately out of the boat, we were face to face with 4 of them, and I spent 10 minutes swimming with one 2000 pound specimen upstream - that could make a whole lot of burgers, wonder what they taste like..with a side of tater totts, naturally.
Incredibly cute, docile and engaging, this was awe inspiring. The main river water was a little chalky, limiting the quality of photos, but we could see them very clearly as long as we stayed close. Next we were taken into the clearer water at the springs, where we got to interact with another adult, followed by a mum and her very cute baby.
At this time of year, the manatees have just started returning to Crystal Lakes. Weather was beautiful, and way outside peak tourist season, so a perfect time to visit. In summer, you would be lucky to even see one manatee here, and if you come when manatees are here literally in their hundreds, huddling together around the springs for warmth (February), it is the middle of winter - so no sunbathing and pretty bloody chilly, even for us Brits.
However, having done this once, if I'm ever around in the US one February, I think I have to return and do this again when they are here en mass. Quite a sight to behold...
Feeling fulfilled, we gorged on an enormous beakfast at a Southern diner, where I got to 'enjoy' some grits, recommended by the locals. Well thank god I doused them in butter and could mix them with a cheese omlette, because as far as I'm concrened, I think they confused 'gr' with 'sh'...never again. After this, we whiled away a few hours at Homosassa, seeing even more manatees, alligators, snakes, foxes, wolves, all American bald eagles, black bears, and quite bizarrely, an African hippo. Couldn't really fathom that one out, but enjoyable none the less.
With that, work beckons. A few more American shannanigans to come at Niagra and Atlantic City shortly, then its time to hit Europe and get some trips done before Brexit well and truly screws everything up - think I can just about bear the thought of work for a month or so..
Diary Photos
---
4th Nov 2017 First Manatee sighting
First Manatee sighting
---
4th Nov 2017 Manatee
Manatee
---
4th Nov 2017 Manatee
Manatee
---
4th Nov 2017 Manatee
Manatee
---
4th Nov 2017 Manatee
Manatee
---
4th Nov 2017 Manatee
Manatee
---
4th Nov 2017 Mom & Baby Manatee
Mom & Baby Manatee
---
4th Nov 2017 Ignore at your peril...
Ignore at your peril...
---
4th Nov 2017 Manatees
Manatees
---
4th Nov 2017 Burrowing Owl
Burrowing Owl
---
4th Nov 2017 Baby gator
Baby gator
---
4th Nov 2017 Bobcat
Bobcat
---
4th Nov 2017 Pelican
Pelican
---
4th Nov 2017 Sleeping bear
Sleeping bear
---
4th Nov 2017 Osprey
Osprey
---
4th Nov 2017 Bald Eagles
Bald Eagles
---
4th Nov 2017 Black vulture
Black vulture
---
4th Nov 2017 Flamingos
Flamingos
---
4th Nov 2017 Sleeping fox
Sleeping fox
---
---
4th Nov 2017 Big bad gator
Big bad gator
---
4th Nov 2017 Homosassa hippo
Homosassa hippo
---