ScouseLeeM on Tour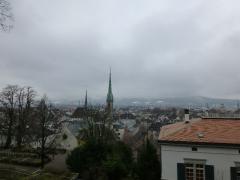 22nd Dec 2017 - 23rd Dec 2017
Leichtenstein, Zurich, Rapperswil
A small stop enforced by a 1 day stopover - making the most of a stop in Zurich to head out and get another 'country' struck off the global list. Certainly not my first time in Zurich, but the first time I have done any sightseeing or had a camera with me.
Tiny little Leichtenstein, one of Europes 7 independent principalities and personally the 6th one I've managed to see - giving me an excuse to travel around Lake Zurich, through beautiful Swiss mountain ranges, the 'Heidi' village, and a small stop in Rapperwil to see the castle and eat some famous 'cheese - cake' (which turns out be a quiche, but was absolutely delicious).
Time to buy some fabulous Swiss chocolate for some not-so-fabulous prices, and see the arch-dukes castle in Vaduz, and take in the Austrian Alps range surrounding this town. Back to Zurich in time for my flight connection.
Amazing what you can fit in to half a day rather than sit on your arse in an airport...
Diary Photos
---