ScouseLeeM on Tour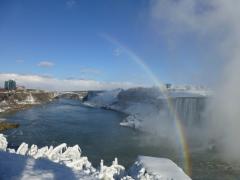 26th Dec 2017 - 1st Jan 2018
Niagra Falls, Atlantic City, Philadelphia..& New York, again...
...dragged kicking and screaming against my will to New York (well not quite), I decided to make the most of a few days in the big apple by covering a few new US stops, bolting on a trip to Atlantic City and Philadelphia.
First up, a dash across NY state to see Niagra Falls.
Niagra is not a place that was ever on my bucket/wish list - as something of a seasoned travel snob these days, I always thought it was simply too commercial, and just for obese American tourists to say they have seen a natural wonder. In fact, the only reason for doing it this time is I've already seen everything New York city has to offer, several times over...
In the end, a worthwhile day with a very early morning start and one and a half hour flight from JFK to Buffalo. Amazing that you can fly for 90 minutes and still be in the same US state - back home in Europe I could probably have covered 4 or 5 countries in that time.
Heading over the border into Canada, we were awe struck - not by the falls, but by how much tourism they can cram into one place. Hotels, casinos, theme parks and souvenir stores galore adorn this side. Thankfully, the US side has been left relatively natural, meaning good views and photos from the crazy commercial side.
Even better, some very cold weather (-15 degrees Celsius), means the Falls were probably at their prettiest - with snow underfoot, ice covered islands, and icicles hanging down all around the Horse Shoe falls, the key attraction here. And a pretty rainbow to complete the fairytale picture...Many hours spent walking along the smaller falls and whirlpool, as well as the 'behind the falls' tunnel and viewing spots under the falls, were followed by panoramic views from on high (while stuffing faces with an all-you-can-eat buffet). Worth a trip if in the New York/Toronto area, but this is no Angel Falls in terms of magnitude and prehistoric wonder, and certainly no Iguacu in terms of sheer spectacle/awe. But it would take something truly incredible to match either of those two.
On returning to NY, and before joining some very non cultural stag do activities, enough time for a few festive photos around key sites of the city, such as the Rockefeller centre Christmas tree and Saks 5th avenue light shows.
After a few days of NY debauchery, time for more debauchery down the Jersey coast - making time in my schedule to meet up with Rob in Atlantic City, Hi 5...after 30-odd trips to Vegas and still counting, time to finally meet the East coast version. First impressions were mixed, maybe this was what Vegas would be like if it died...and went to hell? Some very grim areas if you walk down the wrong streets.
Thankfully, over the course of the next few days, my mind was changed - partially helped by a lot of time spent in the huge Tropicana casino and its many eateries and bars (obligatory wings fest at Hooters, and a fabulous full Irish breakfast in their Irish pub while watching Liverpool FC at 10 in the morning). We also experienced a cultural phenomenon, that Americans are probably trying to get added to the '7 wonders' list: the worlds biggest Pac man arcade machine at Bally's, & stuffed our faces with and endless supply of 'salt water taffy' - the sour grape flavour one is something I could possibly live on for several months. No idea what the hell is in salt water taffy - one thing for sure is no salt water is involved, for which I am grateful.
As a fan of 'Boardwalk Empire', I had to take in a tour of the city - this is a lot more spread out than Vegas, with some real high roller casinos a few miles from the boardwalk, and plenty of places that would be great to explore in summer. There are at least 2 'bikini bars' in town and on the beach, and it is also the home of the annual Miss America beauty pageant, so it truly is culture all the way...in fact, only by taking in a tour did I find some slightly more high brow sightseeing - the Absecon lighthouse, Steel pier, Korean war memorial and civil rights garden a few of the highlights.
To break up the casino - fest, we headed to Philadelphia for a day full of culture... and cheese steak! Spending a morning seeing Independence hall, where the Declaration and constitution were signed, and the liberty bell, it was time for some nutrition. Hence we set off in the direction of the holy grail of Philadelphia - Pats and Genos are the 2 cheese steak kings of Philly, and what seems like a Himalayan trek from the city centre in South Philly.
Our original plan had been to grab lunch at one of these 2 establishments, continue our sightseeing, and then finish the day with an evening cheese steak at the other joint, then draw our own conclusion on the true 'king'.. following our trek in freezing temperatures, we agreed there was no chance in hell we would be making this voyage twice in a day.
Hence, a 'man v food' challenge began - we started with a trip to Pats - briefed on the correct way to order in short. sharp efficient Philly fashion (apparently, if you don't do it right, they will send you to the back of the queue), it was time to wolf down an enormous chopped cheese steak with mushrooms and provolone, sat outside (no indoor seating) and unable to feel our fingers in the arctic temperatures.
Feeling totally full, we proceeded over the street to order another round of massive cheese steaks - this time, I was persuaded to go for 'whizz' as my cheese on a sliced cheese steak - an American concoction of luminous gloop that looks like nuclear power plant waste. After forcing down another pound of meat, we reached a unanimous decision - for us, Pats with their chopped steak is the winner.
Almost unable to move, and in need of an afternoon nap, we forced ourselves across the city to the museum of Art, better known for its iconic role in the original Rocky movie...time to strike a pose at the Rocky statue that has become a Philadelphia institution, with long queues to match. Despite Rob being incapable of operating my camera correctly, and managing to shoot a video that mainly comprised of his own feet, I somehow managed to salvage a usable photo later that evening, using forensic skills that could get me a job in CSI Philadelphia...then time to make our way up the famous Rocky steps (not sure he had 2 cheese steaks in his belly when he ran up them), and a panoramic view of the city. After that, enough time to head over to the very grand-looking city hall, before another high brow evening in Atlantic City.
Game over - just time for a quick stop in NY before it is hit by blizzards, and make my way back to Europe...
Diary Photos
---