ScouseLeeM on Tour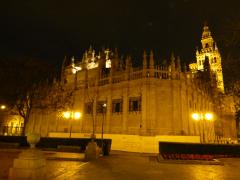 9th Feb 2018 - 12th Feb 2018
Seville & Granada
Just uploading a few photos here, from a very chilled out weekend in Seville, the start of a series of trips to make the most of Europe and its crazily cheap budget flights...
While here, took the opportunity to visit the Seville Cathedral and beautiful Arabian palace, the Alcazar, using highly recommended front of line entry to beat the enormous queues. This was a perfect time to visit, in pleasant 19 degree sunshine (in summer it is well into the 40s and ridiculously overcrowded). Seville is ideal for a weekend - you can walk around all the sights in a day, with no need for buses or any other transport, and it seems surpisingly cheap for accomodation and food.
This visit was broken up with a small-ish detour to Granada, to visit a place on many bucket lists: the ancient Alhambra palace. Set against a backdrop of the Sierra Nevada mountain range, this is a spectacular setting and well worth a guided tour to see the interior. Having said that, I probably found Seville's Alcazar just as pretty, if not more - but worth doing both.
With a few spare hours to fill before heading to the airport,and a small rain shower to avoid, I discovered that the famous 'Bodies' exhibit was in Seville, and ducked out of the rain. This was pretty cool, as they were running a special animals version of the exhibit, complete with gorilla, giraffe, and elephant amongst others.
Feeling very content, time to continue some European explorations - next time, 3 new countries will be added to my map...
Diary Photos
9th Feb 2018 Seville cathedral
Seville cathedral
---
9th Feb 2018 Giralda
Giralda
---
9th Feb 2018 No Title
No Description
---
10th Feb 2018 Alcazar entrance
Alcazar entrance
---
10th Feb 2018 No Title
No Description
---
10th Feb 2018 No Title
No Description
---
10th Feb 2018 No Title
No Description
---
10th Feb 2018 Alcazar
Alcazar
---
10th Feb 2018 Alcazar
Alcazar
---
10th Feb 2018 No Title
No Description
---
10th Feb 2018 No Title
Inner Alcazar
---
10th Feb 2018 No Title
No Description
---
10th Feb 2018 No Title
No Description
---
10th Feb 2018 No Title
No Description
---
10th Feb 2018 No Title
No Description
---
10th Feb 2018 Christopher Columbus tomb
Christopher Columbus tombscription
---
10th Feb 2018 Seville skyline
Seville skyline
---
10th Feb 2018 No Title
No Description
---
10th Feb 2018 Torre del Oro
Torre del Oro
---
10th Feb 2018 Seville bullring
Seville bullring
---
10th Feb 2018 Columbus monument
Columbus monument
---
11th Feb 2018 Alhambra
Alhambra
---
11th Feb 2018 No Title
No Description
---
11th Feb 2018 No Title
No Description
---
11th Feb 2018 No Title
No Description
---
11th Feb 2018 Alhambra
Alhambra
---
11th Feb 2018 Alhambra
Alhambra
---
11th Feb 2018 No Title
No Description
---
11th Feb 2018 Granada skyline
Granada skyline
---
11th Feb 2018 Sierra Nevada
Sierra Nevada
---
11th Feb 2018 Bodies exhibit -Ostrich
Bodies exhibit -Ostrich
---
11th Feb 2018 Bodies exhibit -bear
Bodies exhibit -bear
---
11th Feb 2018 Bodies exhibit - Gorilla
Bodies exhibit - Gorilla
---
11th Feb 2018 Bodies exhibit - Elephant
Bodies exhibit - Elephant
---
11th Feb 2018 Bodies exhibit - Giraffe
Bodies exhibit - Giraffe
---
12th Feb 2018 Palacio de San Telmo
Palacio de San Telmo
---
12th Feb 2018 Plaza de Espana
Plaza de Espana
---