ScouseLeeM on Tour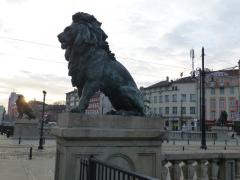 23rd Feb 2018 - 26th Feb 2018
Bulgaria, Macedonia, and Serbia
..well a bit of them anyway..
Due to some airline cock ups and resulting compensation, taking advantage of a free flight and accomodation to add 3 new countries to my list.
Not countries that were actually on my wish list, but not to look a gift horse in the mouth, this seemed about the only place in Europe where I hadn't been, that I could to use my free flight.
Am glad I did, cramming in Sofia in Bulgaria, plus a trip across the border to Macedonia to the Osogovo monastery in the mountains (via Zemen), and a trek into Serbia to the town of Nis, complete with its famous skull tower and WW2 preserved concentration camp.
3 days stacked full of meat and cheese - this part of the world is not for vegetarians,  so totally my kind of people! I developed a full on addiction to banitsa, the Bulgarian breakfast pastry filled with white cheese, but maybe not a  fan of the salty yoghurt drink they crave here to accompany it.
As always in these countries, there is a plethora of churches and monasteries - 3 days was just right for me, as some stunning places to see, but another day or 2 would have seen me going stir crazy. Day one started from Sofia  with a trip to the UNESCO Boyana church and Zemen monastery before entering Macedonia to see Osogovo, and a large dose of meat, cheese and chips overlooking the mountains - such culture. Osogovo has some rather unique artwork to admire v other churches and monasteries, lots of devils/demons depicted, which made a change from the norm...
A very early start the next day for the 4 hour bus ride into Nis, Serbia (2 of the 4 hours spent at the bloody border going through passport control/security). Nis was a revelation - a really great city to visit that is worth a  return. Unbelievably cheap, friendly people, and great sights to behold - it is not serviced by direct UK flights, but many budget carriers are coming from mainland Europe, would definitely be worth a  summer visit. A  full day trip was spent milling around the fort, various city monuments and museums, Roman ruins, the WW2 well preserved concentraton camp, and the skull tower accompanied by our very colourful guide, Bane (a former rock and roll guitarist that has led a life so varied he makes Forrest Gump look dull).
The concentration camp, as you would expect, is slightly surreal and sombre, with many stories adorning the walls of those that lived and died there, or were sent to other camps to meet their fate in the gas chambers. The camp is incredibly well preserved and worth a visit for a dose of reality and reminder of how lucky most of us are.
The skull tower is fairly unique, erected following a massacre of Serb troops by the Turks - the sultan ordering the skulls of defeated soldiers to be built into a 4 sided tower. Originally numbering over 1000 skulls, less than 100 remain intact, but it is still a sight to behold.
A final day spent amongst the sights of Sofia in 6 inches of overnight snowfall (a lot of churches!), while stuffing my face with banitsa and baklava, was polished off with a nice light Bulgarian lunch of lamb soup, half a cow and a whole chicken. The snow gave the city a very different, and highly picturesque feel, so added a few more photos of places I'd already seen...
End of free trip, onto my next paid vacation...
Diary Photos
24th Feb 2018 Lions Bridge
Lions Bridge
---
24th Feb 2018 St Sofia
St Sofia
---
24th Feb 2018 Boyana Church
Boyana Church
---
24th Feb 2018 Zemen monastery
Zemen monastery
---
24th Feb 2018 No Title
No Description
---
24th Feb 2018 Osogovo monastery
Osogovo monastery
---
24th Feb 2018 Sofia bath house
Sofia bath house
---
24th Feb 2018 Russian church, Sofia
Russian church, Sofia
---
24th Feb 2018 Alexander Nevsky cthedral, Sofia
Alexander Nevsky cthedral, Sofia
---
24th Feb 2018 Alexander Nevsky cthedral, Sofia
Alexander Nevsky cthedral, Sofia
---
25th Feb 2018 Nis fortress - gate
Nis fortress - gate
---
25th Feb 2018 Nis fortress - Roman graves
Nis fortress - Roman graves
---
25th Feb 2018 Nis fortress - mosque
Nis fortress - mosque
---
25th Feb 2018 Nis fortess - funky
Nis fortess - funky
---
25th Feb 2018 Constantine memorial
Constantine memorial
---
25th Feb 2018 No Title
No Description
---
25th Feb 2018 No Title
No Description
---
25th Feb 2018 Crveni Krst concentration camp - main gate
Crveni Krst concentration camp - main gate
---
25th Feb 2018 Crveni Krst concentration camp
Crveni Krst concentration camp
---
25th Feb 2018 Crveni Krst concentration camp
Crveni Krst concentration camp
---
25th Feb 2018 Crveni Krst concentration camp
Crveni Krst concentration camp
---
25th Feb 2018 Crveni Krst concentration camp
Crveni Krst concentration camp
---
25th Feb 2018 Crveni Krst concentration camp
Crveni Krst concentration camp
---
25th Feb 2018 Crveni Krst concentration camp - Russian memorial
Crveni Krst concentration camp - Russian memorial
---
25th Feb 2018 Nis Skull Tower
Nis Skull Tower
---
25th Feb 2018 Nis Skull Tower
Nis Skull Tower
---
25th Feb 2018 Nis Skull Tower
Nis Skull Tower
---
25th Feb 2018 Nis Skull Tower
Nis Skull Tower
---
25th Feb 2018 Lion Bridge - Sofia
Lion Bridge - Sofia
---
26th Feb 2018 Alexander Nevsky cathedral
Alexander Nevsky cathedral
---
26th Feb 2018 Alexander Nevsky cathedral
Alexander Nevsky cathedral
---
26th Feb 2018 Tsar liberator statue
Tsar liberator statue
---
26th Feb 2018 Russian church - Sofia
Russian church - Sofia
---
26th Feb 2018 Royal Palace - Sofia
Royal Palace - Sofia
---
26th Feb 2018 Mosque and Roman ruins
Mosque and Roman ruins
---
26th Feb 2018 St Nedelja church
St Nedelja church
---
26th Feb 2018 St George Rotunda, Sofia
St George Rotunda, Sofia
---
26th Feb 2018 Sofia National Theatre
Sofia National Theatre
---
26th Feb 2018 Slaveykov Square
Slaveykov Square
---
26th Feb 2018 Yet another church - Sofia
Yet another church - Sofia
---
26th Feb 2018 Sofia Lions
Sofia Lions
---