ScouseLeeM on Tour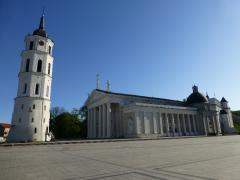 5th May 2018
Vilnius and Trakai - Lithuania
Due to scheduling, I was left with one entire day in Lithuania to try and pack as much as possible in...and that is exactly what I did.
Up with the lark and off into Vilnius itself for an early morning hike around some of the key sights in Cathedral Square, Town Hall Square, and the Gate of Dawn, before catching a bus to Trakai - one of the most popular destinations in the country, for locals and visitors alike.
Trakai castle sits on an island in the middle of a large lake, and provides for very scenic views from the shore. 3 of us trekked over to the castle itself, and meandered through the inner rooms and courtyards, before sitting outdoors in blazing sunshine for lunch overlooking the scene. On returning to Vilnius, I was just in time to catch the official open top tour bus, to do a complete loop of the old town as well as new town and some sights based a little further affield, such as the St Peter & St Paul church.
This tour ended up taking much longer than scheduled, as I had chosen to visit on a day when thusands of bikers/hells angels were descending on the city. Our bus ended up stranded at a crossroads where an endless stream of the buggars kept coming, and refused to stop whenever the traffic lights were on red...this seemed to go on for a good 20 - 30 minutes.
Back in the city centre, there was still some late evening sunshine to enjoy - and enough time for a trek out of the city to a panoramic viewing spot. Pleasantly, I discovered a food truck festival going on halfway up the hill to the viewing spot, so stopped for a ruddy great burger to fuel my adventure.
A lot crammed in to one day, but I'd seen pretty much everything in Vilnius itself, as well as fitting in Trakai. No time to rest on my laurels, as now for the rather more obscure, less visited Baltic jewel of Belarus, a member of the Russian Federation...
Diary Photos
5th May 2018 Cathedral Square
No Description
---
5th May 2018 Cathedral Square
No Description
---
5th May 2018 Town Hall Square
Town Hall Square
---
5th May 2018 Church of St Casamir
No Description
---
5th May 2018 St Theresa church
No Description
---
5th May 2018 Gate of Dawn
No Description
---
5th May 2018 Trakai castle
No Description
---
5th May 2018 Trakai castle
No Description
---
5th May 2018 St Peter and St Pauls church
No Description
---
5th May 2018 Presidential palace
No Description
---
5th May 2018 Hill of three crosses
No Description
---
5th May 2018 St Anne and Bernadine church
No Description
---
5th May 2018 Orthodox cathedral
No Description
---
5th May 2018 Vilnius skyline
No Description
---