Yes Oui Si - Ye --> Dui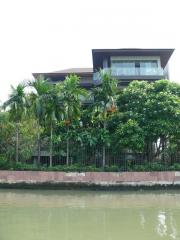 16th Feb 2012 - 22nd Feb 2012 - Asia Explorations
A little short on the updates... and now the trip is over!
We're now in the Hong Kong airport, just one of many stopovers on our 28-hour trip home!
We had a great trip to Malaysia and Brunei, and discovered a couple more countries in South East Asia that are fanatastic. We'll likely be back to both. In Kuala Lumpur, we stayed in a beautiful bed and breakfast run by an American from Washington DC. We then headed on yet another flight to Brunei, and had a great visit, albeit short, with Mike, Kristi and their two kids. They've got a large house and yard, shared pool, and are on a quite cul de sac with other families. Mike gave us a quick tour of the sultanate, complete with three viewings of members of the royal family as their police escorts whipped them through the city! There's a large expat community in Brunei as well - they seem to be a pretty close group, and were good company.
Back in Bangkok, this time at the 5-star ChaoPhraya Park Hotel, we did some more shopping on our last few days and took a cruise of the canals in a long tail boat. We bought tons of stuff in Bangkok - presents for family, shirts as per requests, lots of clothes, and I even got a new ring... We had to buy another suitcase to bring it all home!
Now we're on the road home, and soon back to real life, renovations and work!
Diary Photos
---