Yes Oui Si - Ye --> Dui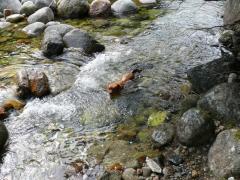 27th Jul 2013 - 15th Aug 2013 - Camping 2013
More bad luck
Then a change of fortune!
Just a quick summary of our trials before we headed to China; we've already finished our flights and are relaxing in a hotel in Dagang, Zhenjiang, our final destination.
We made our way back from Saskatchewan in one day - Moose Jaw to Moyie Lake, near Cranbrook BC and pulled in late at night to get one of the last spots. We managed to get three nights in that campground without having to travel on, and enjoyed relaxing and some down time. We also did a day trip to our house in Glade to do some work there and make sure that the suite was finished for Kimberly, our downstairs tenant to move in the following weekend. Unfortunately, we weren't happy with how our upstairs tenants were taking care of the lawn - there were several dead areas, so we had to speak to them about that.
From Moyie Lake, we rushed to Glade, dropped off the trailer, and drove to Vancouver, arriving late Friday evening. We had a nice evening with Mom and Dad, then bused to our Maple Leaf orientation Saturday. It was only a couple hours long, but a good chance to meet some of the voices behind the phone/e-mail, and to get some tips and advice for our upcoming adventure. Rod and I stayed downtown for the Rider football game in Steamworks Brewery near Waterfront station, and Mom and Dad met us for a nice supper out. Sunday, we met Mizuho and Alex for dinner at a fusion sushi restaurant which was fantastic. But, when we got back to the house, we had 15 missed calls on the cell phone! Our property manager and tenants had all called multiple times - the basement had an inch of water in it!
Over the next few days, we did what we could from Vancouver to fix the problem, then headed to the Kootenays to see for ourselves. From speaking to neighbours and the tenants, we figured out that a sprinkler had been left on overnight against the house, and had seeped into the basement suite. The carpet and baseboard down there had to be replaced, so our suite tenant was delayed a week, and we unfortunately had to ask our upstairs tenants to leave when they refused to take any responsibilty for their mistake. We had also had complaints from the neighbours about the noise and their dog, and they had broken a few other things on the property. They weren't happy with us, and did threaten to fight the eviction legally, but luckily decided to take our offer to return their rent, and leave within a week. Very stressful days for all of us.
That seemed to be the point at which our luck changed. We were able to get new (better recommended) tenants into the upstairs before we left for China. We repaired the damage to the suite and had Kimberly in only a week late. We moved our trailer to Kokanee Creek Park, north of Nelson, and enjoyed a few days of relaxation there - plus we were close enough for some friends to come visit. Rogue enjoyed her last few days with us with long walks and lots of creek swimming. A neighbour stepped in to take care of Rogue for a couple weeks, since her new family needed some time to deal with an illness in the family.
Finally, the time came to say goodbye to the Kootenays and our cute little dog, and start the journey to Vancouver, then China.
Diary Photos
---