Yes Oui Si - Ye --> Dui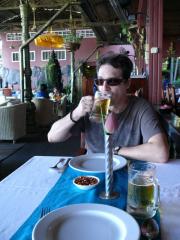 16th Jan 2014 - 22nd Jan 2014 - Maple Leaf China
Part 2: Honeymoon Cruise
A big thank you to all of you who sent us wedding gifts - We used it towards a honeymoon in Vietnam and Cambodia: two days on the Mekong River in Vietnam, transfer by speedboat to Phnom Penh in Cambodia, private tours in Phnom Penh and then a private van transfer to Siem Reap, two days of private tours in Angkor Wat and 4-star hotel stays in each place.

Early on the morning of the 16th, we were picked up in a van by our tour company, the Mekong Eyes, and driven for 2 hours to Cai Bei, our launch point for our Mekong cruise. Already we could see the difference between the van ride today and the van ride we had with Ashley and Clayton on the way to the Cu Chi Tunnels the day before - nobody was sitting on fold down seats, and they provided us with ice-cold water bottles multiples times. And, the rest stop wasn't in an art factory that pulled the guilt card with victims of land mines and the Vietnam War; instead, it was a palm-tree oasis with restaurants, shops and a river running through it.

Our boat was designed for 30 people, but there were only 12 on our cruise, so lots of extra room and almost as many staff as guests. We only had 1 night on the boat, but two full days. The first day, we set off Southwest across Vietnam through "narrow" canals, (which were more like small rivers) at a fairly leisurely pace, with a stop at a small village where we had a wander along the gravel roads past people's backyards, and tea and fresh fruit at the end.

Each of our meals was artistically presented, and was way more than we could eat. We shared a table with a German couple (we were the only native-English speakers on the boat!) who were quite entertaining. Claus had many funny stories to tell about his life, working and living throughout South East Asia as a company representative.

The next morning, we woke up early (5:30) for a sunrise breakfast on deck. Unfortunately, it was fairly cloudy, so it wasn't much of a sunrise. Breakfast was still great though, and although cool, it was a nice day. We watched the boat slowly pull into Cai Bei, under long bridges and past houses on tall stilts.
They loaded us onto a longtail boat (long, narrow covered boat with a propeller on the end of long pole at the back of the boat) and cruised us through the floating market in Cai Bei. People had longtail boats set up to sell all kinds of things - fresh fruits and vegetables (advertised by hanging their wares at the top of a long pole), cold drinks and tourist trinkets, and hot soups and steamed rice, cooked right in the boat. The drivers were very skilled at speeding towards our boat, dropping almost to a stop at the last second and swinging around parallel to us to try to sell us their stuff.
At the end of the market, we toured a rice-noodle factory. They grind the rice, mix it with water to make a paste, then cook it in flat round sheets like a pancake on a hot stone heated with burning rice husks. The 'rice pancakes' are then spread on bamboo racks to dry in the sun, and sliced up in another machine into thin noodles.
Back to our boat for lunch and the end of our river cruise. We boarded a van with a family of 4 from the US who had been on one of the private boats. One of the unique things about this company was that it seemed that each couple on on our tour had a different itineray - some were staying on the boat longer, some were flying to other parts of Vietnam, and some of us were heading to Chau Doc and the Cambodian border. Our drive was a couple hours, and not very comfortable, but the hotel we arrived at was impressive. The Victoria Hotel was a 4-star hotel, with great food and a beautiful pool overlooking the Mekong River. The down side was that our room had no hot water! We filled the tub using kettles of boiling water, but it was a bit disappointing.
We didn't explore Chau Doc much because we were pretty tired, but did go for a short wander to find cheap drinks and see what our options were for dinner. We ended up eating at the hotel restaurant, out on the patio by candlelight.
Another early morning, then we boarded a speedboat to Cambodia. These boats are similar to the longtails in shape, but entirely closed in with 4 seat across. Although the trip took 6 hours, it was fairly painless. The downside was that the wind and sunlight in through the windows were hard on Rod's eyes - he was still suffering from a stubborn eye infection that was very light sensitive. The boat made two stops - one at the Vietnam border to go through customs, and one at the Cambodian border to apply for a visitor visa. Such a difference between the two borders - Vietnam had a rickety, dirty building on stilts, and Cambodia had a green, palm-treed courtyard with benches and covered areas.
Getting off the boat at Phnom Penh, we were greeted by our tour guide for the next couple of days. Mariya was a tiny, energetic woman that taught us alot about Cambodian history, and shared a lot of her personal views and experiences with prompting from Rod. We enjoyed a lunch at the dockside restaurant (Chicken Amok cooked in banana leaves Rod, and Buffalo Lok Lak for me), then immediately jumped into our tours. Mariya took us to the Royal Palace to start, helping us to bypass all the lineups and head straight inside. We learned interesting facts from her that we probably wouldn't have gotten on a self tour - like when the flag outside the royal residence is up, it means the King and family are inside.
From the Royal grounds, we went to the Silver Pagoda, with it's floor of 5000 polished silver tiles. We were running out of time by this point, so we had to make a choice - the National Museum or Tuol Sleung Genocide Museum. We chose the latter, knowing a little bit about Cambodian history.
Tuol Sleung was a former high school that was used as an interrogation centre and prison, the Security Prison S21, during the Pol Pot regime in the late 1970's. Over 20,000 of the people held here died, many after they were marched 15km to the Killing Fields and shot. Most of the prisoners were just regular people - educated, "lazy" or activists, or were named by others under torture. The museum was a sobering experience - the walls were lined with the entry photos of every prisioner, and the floors were still stained with blood. Although hard to see, we knew that it's important to see "real" culture and history in these countries that we visit - not just the protected bubble that is hotels and tourist traps.
Mariya took us back to our hotel bubble - this time, a beautiful hotel called The White House, modelled after, you guessed it, the US White House. Tall, expansive ceilings and huge white columns. A spiral staircase up to each floor. Tapestries hung in front of each doorway for privacy. We enjoyed the outside pool, and explored the neighbourhood for food. We turned down a fancy sushi restaurant with crazy prices, and opted instead for a little neighbourhood place where we didn't get quite what we ordered. I ended up with cold steamed vegetables and raw beef, and Rod got a kind of curry. Surprisingly, I didn't get sick from the raw meat - I wasn't brave enough to finish it all.
Our fourth day was another early one - our biggest complaint about the trip was the lack of sleep-in mornings! This was one of our longest days yet - we drove from 7:30 in the morning until after 6pm. Our guide gifted us two blue and white checked scarves - traditional Cambodian scarves used as a head covering, towel, scarf, etc. Mariya and our driver took us from Phnom Penh to Siem Reap (in a 10-person van all to ourselves) with a stop at Sambor Prei Kuk, a series of 1400-year-old pre-Angkorian stone temples. We walked for about 3kms through the park, discovering all kinds of blocky temples in various states of reclamation by the jungle. We also stopped at the original bridge into Siem Reap - all hand carved stone blocks crossing a narrow river valley.
Our other stop mid-journey was at "Spiderville". Bugs and spiders are delicacies and/or snacks in many parts of Asia, and spiderville was a roadside market selling bugs by the bin. We weren't brave enough to try all the different beetles and grasshoppers, although the pack of kids following us around was chomping down happily. Mariya bought herself two deep-fried tarantulas (probably for us, as part of the "experience"), but all I could manage was to nibble on one leg. It didn't taste too bad - mostly like the oil it was cooked in, but the hairs from the spider's leg left a really gritty taste in my mouth.
We bought ourselves snacks we enjoyed at the market instead of bugs - a bag of sundried banana chips, and, after sampling jackfruit, bought a big chunk of jackfruit. Mariya also picked up pineapple and sugarcane for herself, which she shared in the van. Raw sugarcane is interesting to eat - it's very juicy, but feels like you're chewing on a sponge. You bite down and get all kind of liquid, but you're left with a woody pulp that you spit out. It's not as sweet as you'd expect either.
The roads between the two cities were in poor shape, and made for a bouncy ride over the potholes. We actually blew a tire on the way to the temple, and had to stop and fix it. (Our guide and driver wouldn't dream of letting us help fix it). We passed through 'real' Cambodian countryside though, and saw how the rural communities in Cambodia live. Alot of the homes had no power and only well water, and lived in simple one-room huts on stilts with removable walls for the hot season.
We were dropped off at yet another amazing hotel - this time the Angkor Village Resort in Siem Reap. Our room was a bungalow with a deck overlooking a river-type pool that snaked past the buildings. Each of the restaurants (and there were many) was open-air patios with tiki torches and tropical trees and bushes. This was our first (and only) two-night stop of the tour. It also happened to coincide with my birthday - not a bad place to celebrate turning 30.
Although our itinerary called for a pre-sunrise start to the next day, we negotiated an 8:30 start intstead of 5:30! For exploring Angkor Wat, a new tour guide, Bok, and driver (this time in a private car) picked us up and drove us the 3km to the park. Angkor Wat is the main wat (meaning temple) in a huge UNESCO World Heritage Site. These temples aren't nearly as old as the ones we saw the day before - only 800 years old. I can't begin to remember the names of all the different temple sites we saw over the two days of exploring the park. Each one was unique though - some with Hindu influence, some mainly Khmer. Some were steep, mountainous temples and some sprawling rooms and connecting hallways. The jungle had reclaimed and invaded a lot of the sites, leaving piles of fallen blocks, and tree routes intertwined with the walls, but different countries had sponsored the restoration of parts of the park, replacing blocks where possible and recreating others out of concrete where the originals were unusable. I can easily see how visitors could use a week's pass to thouroughly explore; we only had 2 days, and while it was a chance to see so much, there were parts of the park we didn't get to. Despite full memory cards and dead batteries, we took hundreds of photos, and saved many visual memories.
Our tour was a once-in-lifetime experience of being treated like royalty; chauferred around with a private driver, and everything we needed taken care of for us. During our two lunches at Angkor, Bok set us up with a preplanned menu, then disappeared to a "staff" area while we ate. It made us a bit uncomfortable, but we endured/enjoyed it while it lasted.
The last afternoon of our tour, after a beautiful lunch at a tented restaurant, we were dropped off at our overnight hotel. This hotel, not part of the honeymoon, was back on budget - and back to reality. The Skyway hotel was not up to par, and didn't even come close to the hotels we'd stayed at for the last week. Luckily, it was just a sleep stop before our flight to our next leg of the trip - Chiang Mai, Thailand.
Diary Photos
---