STILL DREAMING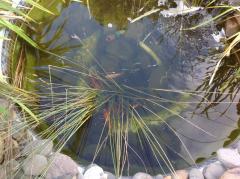 10th Mar 2017 - 12th Mar 2017
Falls Revival
Well mates....when we got back home after being away for 8 months the pond plants had really taken over. You could not even see the water let alone a fish. Scooped up the fish with a fish landing net and put in a tub. Drained pond. Ripped out 90% of the plant life. Filled pond with water, good to go. NOT...the system needs Stewart falls ( named after our wonderful Kiwi neighbors that donated the pump ) to pump water from the pond, up through a 250 liter filter drum and then gravity flow to the top of the rock cairn at the top of the falls. The system, if working properly, is run with a timer that turns on around 0900 and shuts off at dark. This keeps the water crystal clear. Well, the damn pump kept loosing the prime and would not turn on after being shut off. After a bit of head scratching, this took several days, I pulled up the pond hose with the brass non return valve on the end. This valve prevents the water draining down from the pump to the pond and loosing the prime. Sure enough, root fragments from the water plants were clogging the valve and letting the water drain back. A stop at my favorite farm pump store in Dargaville, on our next trip to town, provided the cure for $5.65. A stainless screen was screwed into the brass pick up one way valve. Photo was taken before the screen was installed on the brass fitting. See just below the white foam circle in the middle of the pond. Happy to say our trusty Stewart pump is now functioning with the timer. Thanks again Maxine and Doug!
It has been raining here for the past four days and the pond is now to the top of the blue tiles and draining away through the 12mm overflow holes I drilled at the top of the tiles around the old spa pool. Fun watching our finned friends swim around. We are now up to 8 fish as they have had babies, from the original 4.
Cheers from Kaihu.
Diary Photos
10th Mar 2017 Pond pick up valve
Brass valve getting clogged with roots etc was the problem with the pump loosing the prime and thus not pumping.
---
11th Mar 2017 Taking another crack at it
Here I go, once again, into the pond to remove the one way valve and clear weeds and roots. With the addition of the screen on the non return valve junk no longer gets in so prime is maintained. Thus Stewert Falls now comes on and off at the set time via a timer.
---