STILL DREAMING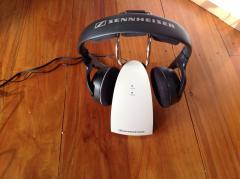 31st Mar 2017 - 1st Apr 2017




$1300 Wireless Headphones???



$1300 wireless headphones…..bloody hell they better be a story behind this one.
As the very old saying goes, "now for the rest of the story."
Our neighbour happens to be a bit hard of hearing. We see her walking around with wireless headphones. These headphones are tuned into her TV so she can hear the TV better. This would be perfect in our small, totally open plan home. When one wants to nap, usually me, the telly must be turned down to less than low or that individual, me, can't pop off to sleep.
We found Sennheiser wireless headphones on sale in Whangarei, a 100km drive from our house. Later, at home, after charging the phones overnight, we watch the set up video. Problem, no TV audio jack.
After watching the set up video, we discover our four year old LG 42" TV does not have a headphone jack. I call tech support at the store. After giving them our LG model number and a quick search on their end they advise us of two options.
A—return the headphones for a full refund or B—buy a new TV.
What the hell, it is also our 34th wedding anniversary, lets live it up in our retirement years.
Off we go to Whangarei again on the "get a new TV mission." Our only criteria is it must fit on the wall shelf where the old TV sat.
Of course they have a slew of TVs to pick from. We shall just look at the 42" size to make sure it fits.
The same LG model, like our old TV, is sitting beside a Sony Bravia. Gee, that Sony does have a sharper picture, guess that is why it is $350 more. Hey, like I said, live it up! We will spring for the Sony. Mary finds an article the next day in YAHOO relating all the adapters that can be used for this type of headphones when the TV does not have a jack. What should we do?
The flash TV is all hooked up with built in WI FI. A NETFLIX button is on the remote.
Life is good in our tiny NZ home, with $1300 dollar headphones. O, and a new TV.
Cheers from Kaihu.



Diary Photos
---