Stevie P sails to the Americas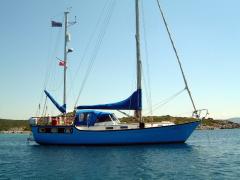 5th Sep 2009 - 6th Sep 2009




10 things to do in Luton Airport departure lounge



After months of preparation (of sorts) and years of dreaming, today I'm setting off on my adventure. Although it's a bit of a false start as I'll be back again in 2 weeks.

This is the warm-up, the prologue, the pre-season friendly of adventures, to test my mettle before I set off for good. Tomorrow I'll be meeting Roger, the owner and skipper of Vittoria, the 40ft yacht that will be my home for three weeks as we sail across the Atlantic later in the year. but for the next two weeks we will be sailing from the west coast of Greece via Malta to Tunisia. It should be 10 days or so plain sailing across the calm waters of the Mediterranean, but it should prepare me for the far more challenging Atlantic crossing in a couple of months time.

I just hope that Roger, who I've only spoken to once, and given a substantial sum of money to as a contribution to on-board provisions, is legit. Otherwise I'll be back much sooner than planned. We shall see...

Right now I'm in the departures lounge of Luton airport, waiting for my delayed flight to Athens. If you are ever in the same situation, here are my suggestions:
1. Write your travel blog
2. Wander the aisles of whsmith. Consider buying an overpriced bag of sweets.
3. Play boarding gate bingo
4. Join your fellow Brits for a cold lager (or 5) from the wetherspoons.
5. Waste some money in the amusement arcade
6. Buy some duty free ciggies for later profiteering with friends back home.
7. Try to guess the nationality of your travelling companions, and what fligt they're on.
8. Enter the raffle for the lambourghini that has somehow been parke in the middle of the departure lounge.
9. Attempt to get in to a restricted area and ideally on to the runway.
10. Leave your bag unattended and see if they evacuate the terminal to do a controlled explosion.



Diary Photos
---
6th Sep 2009 Athens taverna
---