Long Distance Information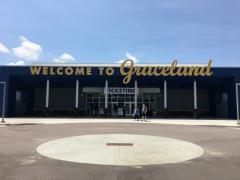 27th Jun 2018
Graceland
After the previous night's hooha, we were determined to make sure we made the most of today, as our remaining time in Memphis was short. We made a decision to concentrate just on visiting Graceland, rather than try to cram in that and downtown as well. Graceland is in walking distance from the hotel we removed to, so we set off down the road. It took about 15-20 minutes, and, despite the heat, we were glad to get a bit of exercise after being cooped up in the car so much.
I think that when Elvis bought Graceland it was surrounded by green country. Graceland itself is set in plenty of acres, but Elvis Presley Boulevard, which runs right alongside it, is really not the most attractive of roads and it looks a bit rundown here and there.
The estate itself is something else. There's some very slick marketing going on here, but the powers that be have gone out of their way to make it a special experience for visitors. We chose the basic visit, but still got to see plenty. There's a short introductory film before the visit starts, then visitors are bussed to the house itself and get to walk a set route around the house. It was good to see that it was still so personal, easy to think that Elvis has just got up and walked out of the room. The house is very special by 60s/70s standards, Elvis never let good taste spoil his choice. But... it's a time capsule at the end of the day, and I think the house is different from what's considered lavish these days. What is outstanding though is that it's still possible to see that this was once very much a family home, where Elvis must have felt safe and secure. It was sad to see the graves of the family - Elvis, his parents and his grandmother, Minnie Mae. That lady must have seen so much heartbreak- she saw her daughter-in-law, grandson and son die before her. That's a lot to take.
After the house we were driven back to the main complex where we saw various exhibits- there are so many to choose from. We enjoyed seeing Elvis's cars and his costumes most. We ate in "Gladys's diner". Of course we had to choose the peanut butter and banana sandwich, fried in bacon fat (what else?) which Elvis loved his mum to make for him. It tasted good, right enough, but it was a heart attack on a plate and once was enough.
Later we had a look round the Jetstar, Lisa Marie, which Mike especially liked.
It was good to go to Graceland to see something personal of the man who did so much to change the face of popular music. I don't think today's younger ones quite realise what a revolutionary he was. He had that rare combination- musical talent, a terrific voice and great looks. He was also a very generous man, which is not so well known. It's a tragedy he died at such a young age - he didn't deserve that. Elvis RIP.
Diary Photos
---