Long Distance Information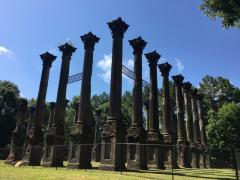 29th Jun 2018 - 30th Jun 2018
The Big Easy
Bobbye, our hostess at Isabella, fixed us a hearty breakfast before we went on our way. We decided to drive a few miles down a country road to get a glimpse of the Windsor Ruins on our way to New Orleans. Once in the 1800s, a great house stood on this spot, but it was destroyed by fire, and the remaining pillars are the only testament to its existence. It's quite eerie to see them standing so tall in the middle of nowhere, and they too are crumbling away with time. You can't stop Mother Nature reclaiming her own.
The drive to New Orleans went fairly well (I say that, but of course it was Mike driving and he did brilliantly) but getting around the city itself was a bit of a nightmare. Fortunately our hotel had its own car park in the basement so we could leave the car there and forget it for a couple of days.
New Orleans itself is amazing. It's also been on my bucket list for a while, and I was so pleased to have finally got there and find it lived up to my expectations. The Royal Sonesta is right in the middle of Bourbon Street- we couldn't have got closer to the action if we'd tried. The place was continuously mobbed, but the atmosphere was great; everyone was friendly and all anyone wanted to do was enjoy themselves and have a good time. The food is also good: we got to try gumbo, jambalaya, even alligator (Mike wasn't so sure about that) and I was treated to a dozen oysters. Yum!
It's a given that if you're going to visit New Orleans you have to get a ride on a streetcar. These are amazing pieces of living history; the one we took to Charles Street dates from the 1920s. At $3 each for an all day ticket they are great value. Charles Street is old school elegant and if I lived in New Orleans and had the money, that's where I would choose to be.
This was our last visit to a main city before heading for our long stay in Orlando. Just three nights ahead of us on the road and we'll be in the Land of the Theme Parks.
Diary Photos
---