Long Distance Information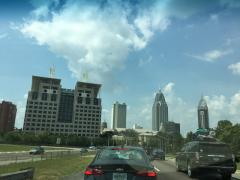 1st Jul 2018 - 4th Jul 2018
Three fairly anonymous days
New Orleans is fairly quiet on a Sunday morning, thank goodness, so it was quite easy to navigate our way out of it. We were now heading for our final major stop, Orlando, but we're stopping for three nights on the way.
Our first overnight was Fairhope, Alabama. Unfortunately it tipped down with rain virtually the whole time we were there, so we didn't get a proper look at it. Best thing was that we were able to purchase a nice secondhand suitcase for $5.99 from a thrift shop that was close by, as we need another case for bits and bobs we've collected along the way.
Next night we were in Wakulla, Crawfordville, Florida . Again, not a lot to report from there, but we did have a delicious fish dinner in a restaurant on a pier. I had a whole grilled yellow snapper and Mike had mahimahi. We both really enjoyed that.
Last night before Orlando was in a suburb of Lake City. Again, nothing too special. There was a boot outlet across the road- but they're everywhere in the States and most of the boots are made in China-if not China, Mexico, so they're hardly authentic.
We've noticed a big change in scenery though. The vegetation we've passed in Florida is very lush and tropical, but there are also wide open swampy areas. Definitely another land.
Diary Photos
---