Tina & Donny Europe Japan 2018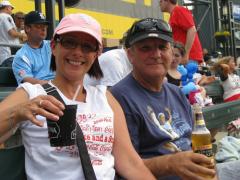 21st May 2011 - 23rd May 2011 - Don and Tina 2011 adventure




Baseball/ Chicago City



Sat- decided to check out the horse races at Arlington, it was small track but beautiful, it's one of the main tracks, in. Chicago I think sea biscuit ran there, Need to check that one out !! very casual and not crowded at all, we booked a table in the dining area, when they found out we were from Australia and members of MRC they set us up not only a window view but right on the finish line, the manager of operations Chris came and introduced himself, and chatted hospitality then said that the club was picking up the tab for us, need I say we had a great day, hospitality of this club was great
Sunday- we got taken to a baseball match the white Sox against the Dodgers first baseball match for us and it was good fun, they had guys walking around with a pack on there back (a bit like ghost busters) full of
margaritas, they were good went down well, and not light on with the alcohol, couldn't do to many as it was a hot day and in the sun. Got home and we all decided to have an easy night pizzas and kick back. Have to get one of those ghost busters tank!!!!
Monday- Victoria took us on a bit of a tour around Chicago then a few hours of shopping was needed, went to a
great mexican place for dinner which is very well known it's not your normal Mexican food, Paco the owner /chef is very entertaining and Oh My God (OMG!) is used in his figure of speech all the time when explaining the type of food he is presenting, did order from the menu he just kept bringing out different plates and it. Was OMG!! He got very excited that we were from Australia next thing took a photonof us and but us on his facebook page.



Diary Photos
---