Tina & Donny Europe Japan 2018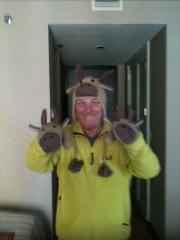 24th May 2011 - Don and Tina 2011 adventure




Anchorage Alaska



Arrived at Anchorage around 1.30pm after a 6hr flight another time zone, we should be eating dinner but it's lunchtime! We were met at the airport to be taken to our hotel with " I see you you have dressed expecting cold weather with your boots, and long sleeve jumpers, it's so hot we can't believe the wealher" it was 17 degrees sunny but chilly and they are all walking around in singlets and shorts and this is the hottest it gets!! It was funny going down to the shopping area, all the shops have swimwear and summer clothes out, and you look around in the distance the mountains are covered with snow, I didn't take my scarf off and I certainly didn't have a singlet on! Anchorage has lots of trucks, check shirts, are you getting the picture!! I did buy 2 great pair of leather boots that was on sale got both pairs for $120, 1 pair was marked at $300 god knows what they would of been in Melbourne, was told that they were reduced because no one would pay $300 for a pair of boots and it's at the end of the season, if I owned a shop in anchorage and knew that no one would pay a large amount for boots, why order them in in the first place! It's funny!
The sun doesn't set until midnight, it was weird we were eating dinner had a few drinks walked outside it was 10pm you would of thought it was in the afternoon, and the sun rises at 5am!
We have a few days of different stop overs then cruise starts on Saturday, I wonder what the next town will bring.



Diary Photos
24th May 2011 It's cold here
---