Tina & Donny Europe Japan 2018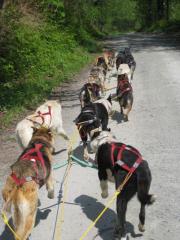 1st Jun 2011 - 4th Jun 2011 - Don and Tina 2011 adventure




Juneau/ Ketchikan Alaska



ship got into port Juneau around 6am, Juneau is only accessible by sea or air, there is one rd out of Juneau and it leads to no where, it as also Alaska's capitol, not a very big town. Visited a dog sled camp, the mushers had about 100 dogs and the dogs are but through their training to prepare them for the as Akan dog race which start around dec and ends in feb, the dogs are well looked after but tough life for the mushers, we god taken on a ride with about 12 of the dogs, not on snow as it is the start of the summer for this truing they have a small vehicle they the dogs haul around, they love it,it was good fun and very interesting all I,d say is that you really have tobe dedicated and love your dogs.
Ketchikan not much here, watch a lumber jack show but have to say our guys here that do wood chopping at the show are much faster, also went to a forest where we got given a talk about the history of totem poles, yes we just laughed at this one it was included with the lumber jack show a wasted 2hrs but funny.Our final port.
Ship left early so we decided that we would have a cocktail night, all I'd say is that we were lucky that we had a day on the sea, I didn't surface till around 2pm very slow day.
Our trip has been great we will be back home in Monday , hope everyone has enjoyed our adventure.



Diary Photos
---