Tina & Donny Europe Japan 2018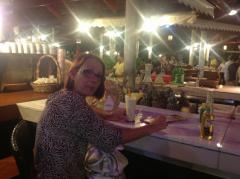 3rd Jun 2013 - Don and Tina Europe Wine Tour




Pedicures, massages & Visit to Patong



After Don having a fitting done for his suits, we strolled down to the beach area both had pedicures done, (Don didn't get the nail polish!) after all the walking it was good to have the feet looked after, the Thais do a great job and cheap. Next stop massage on the beach to get all the kinks out, I didn't have it done but Don reckons it was great, might have one before I leave. A relax around the pool then we decided to go to Patong for the evening.
Patong is about 1/2 from where we are staying, glad we are staying where we are Patong is crazy.
We have been getting rain early morning well before we get up, then around 4pm the clouds come in again for about 20 mins, thankfully the days are good humid but bearable.



Diary Photos
---