Tina & Donny Europe Japan 2018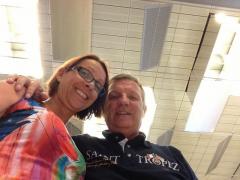 6th Jun 2013 - Don and Tina Europe Wine Tour




The End



Had a great dinner with a couple of friends ( Lindy & Neville ) we bumped into while strolling along be beach ( the people you meet when your on holidays!! ) ended up sitting in a bar at Kata beach with a Thai band singing cover songs. Lots of laughs and drinks a good night for our last night in Thailand.
This morning sat out to get the last bit of sunshine, arrived at Singapore at 8.30 pm and checked ourselves into the transit hotel until our flight leaves in the morning.
Hope everyone has enjoyed following us on our journey, and thank you for all your comments.
Now we have to plan for the next one!! Where will that be?



Diary Photos
6th Jun 2013 In transit in Singapore
---