Tina & Donny Europe Japan 2018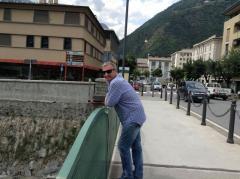 8th Jul 2014 - Tina and Don Europe 2014
Tirano Italy
Most of the shops were closed on Monday , today we spent a little time around Tirano, It has only about 9,000 inhabitants (it is still considered a city because it has walls that were built to protect ). The town has some pretty old buildings but their beauty is trumped by the natural beauty of the Alps that surround it. The river Adda flow through the town a gorgeous setting, some tranquil sun-drenched piazzas and some ancient, winding streets and of course cafes. Vineyards on the mountains surround the town, nice town, our hotel was right opposite the railway station.
The weather was a lot cooler today, we were going to catch the train into St Morirz which is about 1 1/2 hrs away, we were told that the weather would be bad there, so we ended up taking the Bernina express back over the Alps, totally different view when there is cloud about, glad we did this trip on Mon.
Got back around 9 pm, spent a few hours with Jackie & Rick.
Diary Photos
---