Tina & Donny Europe Japan 2018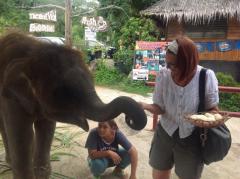 17th Jul 2014 - Tina and Don Europe 2014
Tiger Village and Elephants
Yesterday ( Wed) finally a calm sea day so we organised to do a half day tour out to a couple of Islands that we haven't visited before, picked up at 12, 1hr ride to pier, waiting around for another 1/2 hr, speed boat ride out to 1st Island with 20 other people, I walked around whole Island in 10min ( I am serious) Don did snorkelling for 15 mins not much too see, 1 hr later hurdled back onto boat to another Island that you could not get off boat but jump off the boat too snorkel and swim around the boat Really!!! I don't think so, no one wanted to do that so off to the next Island where we stayed for 2hrs, this island was smaller again! Walked it in 5 min, amazing what they can cramp on a postage stamp!! Finally after crawling through the traffic we arrived back at 6.45pm to a much needed drink, I think we would of been better spending the day by the pool!!
Today we decided to do something completely different, we hired a driver for a few hours to drive us around, this is much easier and very cheap.
We visited an elephant village in the hills, great views looking over Phuket, went on a trek down a steep path through the jungle but asked the keeper to turn around and go back as we both felt the elephant wasn't happy and we felt bad, once the keeper turned around to go back the elephant walked up the path fairly quickly, it knew it was going home, probably relieved it didn't have to walk down to the bottom of the path! The owner assured us that all his money went to the elephants, all of them looked healthy and not too many tourists, our driver told us that if an elephant is walking and swaying its happy, if it's doing nothing it 's sad.
We then visited the Tiger Village, we patted two large tigers which were 4 years old and a 4 month old tiger, we were told not to approach them from the front because they think you are going to play and they might scratch, one scratch and your gone, they sleep 18hrs a day, any wonder with the humidity here, the tigers all seem to be well looked after and did not seem to be drugged. It was well worth it.
Our break here in Phuket has been relaxing, we leave here tomorrow for home.
Diary Photos
---