Tina & Donny Europe Japan 2018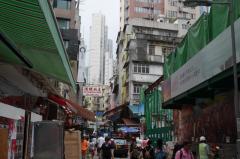 2nd Oct 2015 - 3rd Oct 2015 - Mumbo Italiano 2015
A stroll around the Mid levels Escalators
CENTRAL - MID-LEVELS ESCALATORS

The Central – Mid-Levels Escalator system, is the world's longest outdoor covered escalator system, stretching for over 800-metres and rising 135-metres through the streets of a steep hillside linking these districts of Hong Kong Island. It was opened in October 1993. The system is not a single continuous escalator, it is a series of 20 escalators and 3 inclined moving walkways, connected in places by footbridges, and with 14 entrances and exits. To ride the complete length of the escalator system one-way takes about 20 minutes.
The escalator is a comfortable way to climb the steep hills on Hong Kong Island, they only take you UP, if you want to go down, you have to walk the stairs. Didn't go all the way to the top got out at Hollywood Road and walked through a series of streets, I discovered a number of interesting little shops while using the Mid-levels Escalators which you don't notice when walking at street level, as the shops are on the first or second floors of buildings.
This is a brilliant way to get people up the hill in the central district.
Dinner that night with friends at a local restaurant, food was great and inexpensive, good to have something other than pasta !
A local took us to a bar the front entrance in an alley way was a bar with 3 stools we walked through down a good flight of stairs and here is this place underground that is packed with high tables, stools, lots of people and a lot of different food menus & drinks you would never know it exited and would properly not be able to find it again.
Hong Kong is a very interesting lively city, there are so many different areas to explore, but I have to say thank god for air conditions everywhere as the humidity is shocking.
Diary Photos
---