Tina & Donny Europe Japan 2018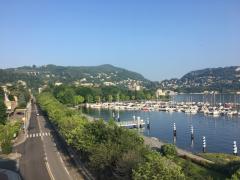 1st Jun 2018 - 2nd Jun 2018 - Europe & Japan 2018
Goodbye pork Hello pasta
Bus took us across the border to Munich airport for our next part of 5e trip Italy.
One flight, two train changes and a short walk, we finally get to our hotel in Como, Hotel Metropole Suisse lovely hotel our rooms over looking the Lake, Como is alive and happy, people everywhere, we had a very late dinner and a few drinks with Trevor and Adele and retired to our rooms.
Sat 02/06
A new day and guess it's a holiday celebration of 70 years Federation day , shops aren't closed, but its so crowed there's bands, police, children singing and lots of tourist, and this at 10am, we ander around find the local market, enjoy the entertainment. Around 3 we lineup to catch the fast ferry to Bellagio, told that the ferry would leave from pier 5 no problem, standing there for about 20mins in the heat, next thing a ticket guy come past checks our tickets and said the fast ferry is now from pier 4 they changed there minds, it's, hot, it's crowded and we all have suitcases and we need to fight through the crowd to get to the other pier.
Enjoying a lovely dinner when a procession started, It was the Wandering Lady of Fatima, it's a very religious ceremony with most of the town involved, carrying the Virgin Mary up the hill to the church it was fantastic to see, and doesn't happen often. It made our night.
Diary Photos
---