Tina & Donny Europe Japan 2018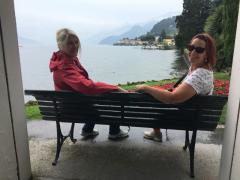 4th Jun 2018 - 6th Jun 2018 - Europe & Japan 2018
Pasta, Chianti, & two kilo weight gain!!
Internet hasn't been too good here,
Our days in Belaggio have been great, we have walked many steps taken ferries across the lake to visit other towns Varenna & Menaggio, done evening tours on a private boat, ate way too much pasta and drank a lot of Chianti, and proberly both gained a few extra unwanted kilos, the weather has been extremely good average daily temp has been around 28.
Tomorrow we head off for the last leg of our trip Japan.
Diary Photos
---