Tina & Donny Europe Japan 2018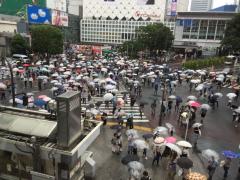 10th Jun 2018 - Europe & Japan 2018
Hedgehog Sunday !
After a day of 30 hot and sticky, today was raining and around 22, with umbrellas and raincoats in hand we set off for our last day of exploring aroundd Tokyo.
A couple of train stops and we seek out the famous Shibuya crossing - which is the busiest crossing in the world people cross from every angle, of course we crossed it then sat above and watched the hoards of people, it's a Sunday and I think it was busier than Saturday.
We found a hedgehog cafe, yes 2nd floor of a building a little cafe with little hedgehogs you could feed them and pick them up, Adele and I were like big kids, they were so cute, only in Tokyo, no where else would you be able to handle these little creatures. I have googled animal cafes the top 5 are No 1- goat, No 2 - Owl, No 3 - rabbit, No 4 - cat & No 5 - birds. I wonder how big the room is for the goat !!
Found laneways with traditional Japabese cafes, that seated no more than 6 -8 people, we had lunch here with a few sake and they were both very good.
Even on a wet day everyone was out, the crowds are amazing, we were shopping at 7pm on a Sunday night it was as if it was a normal week day.
The Japanese is the city for technology as we all know but they certainly win the award for their high tech toilets, they have so many features you just can't help pushing a button and waiting to see what it does, they have music to hide any sounds, air refresher, a shower, moveable seats, warmed seats, the list goes on but the best one yet, Adele found a knitted toilet seat, this was a public toilet, now that is funny!
Diary Photos
---