Tina & Donny Europe Japan 2018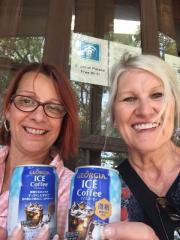 7th Jun 2018 - 9th Jun 2018 - Europe & Japan 2018
Tokyo Madness
So many people, we will never complain about traffic conditions in Melbourne again. It toook us over 2 hours in a bus to travel 82klms, but everyone is organised and very polite about things.
Our hotel is in Shinagawa district 10 min by train from Tokyo city, it doesn't really matter where you stay every area is a mass of people.
Our first initiation into madness was a morning tour of a few sights, pickup 7.50am on Saturday morning, and finish at 1pm, we thought it was going to be small bus, small group, wrong! wrong!
After travelling around for an hour from hotel to hotel picking up tourists we now have a bus load of 40, we then congreate in a car park with a couple more buses each with 40 people, now each bus is numbered 1,2,3, everyone that is on morning tour goes to bus 1, other tours other bus numbers, it's now 29 degrees 9:30am, Adele and I are already over the bus and we haven't seen the sights yet !
But we persevered and trooped on and now can honestly say that this day was Gods punishment for us laughing at the way the Japenese tour.
First destination Tokyo Tower - observation tower that looks like the Eiffel Tower allowed 30mins to tour, herded into the lift up to the top, then told we only have 10mins as the lifts are not working properly and we need to beat the line of tourists, it took us longer getting down than the time spent taking photos! Number 2 Meiji Shrine - Meiji Shrine, is the Shinto shrine that is dedicated to the deified spirits of Emperor Meiji and his wife, Empress Shōken, allowed 40 mins, Number 3 - Akasaka Guest house - drive by, no idea what this was, Number 4 - National Diet building - drive by again no idea, Number 5 - Imperial Palace East Gardens - not even visiting the Palace just the gardens, allowed 40mins, Adele and I walked a couple of meters looked at each other and decided we'd had enough, went back a bought a iced coffee from a vending machine and sat in the shade. Number 6 Ginza shopping district - drive through and drop off for the people that were not continuing onto the afternoon tour, thank God there were no plans for the afternoon tour!
Found a food court which is nothing like a food court that we are used to, no dried up chips or pizza here, everything is prepared and presented beautifully.
We then decided to do a bit of train travel and explore some other areas, underground rail is as busy as the top with people, shops and many restaurants, I think this is because once you go down there to take a train it takes a very long time to find the exits!, we did find some very good food places.😉😉 hate to see what it's like on Monday.
We were on our way to see the robot show, got the train alright but wasn't sure which exit to take, I asked a girl that was just about to hop on a train which exit is the right one, she said I will take you to the exit as it's too hard to explain and even the Japenese get lost, she looked up the robot restaurant on her phone took us right too the restaurant, she was happy to do it she said she liked to practise her English, and it made her feel good to help people, we offered to buy her a drink she declined as she needed to go back and catch a train. Now that is a special person, do you think this would happen in Melbourne!
The robot show was loud, touristy and funny, never seen anything that matches it but was a must do while in Tokyo,
Diary Photos
9th Jun 2018 Iced coffee in a can
No Description
---
9th Jun 2018 Italy in Japan railway station, cutting a mozzarella
No Description
---