Tina & Donny Europe Japan 2018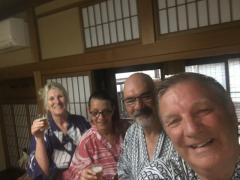 11th Jun 2018 - 12th Jun 2018 - Europe & Japan 2018
Welcome to Takayama our bed is the floor!
Two trains and about 5hrs travelling we arrived in Takayama which is a city in Japan's mountains. The narrow streets of its historic district are lined with wooden merchants' houses along with many small museums. Traditional events such as 'Takayama Festival', celebrating spring and autumn with parades featuring ornate, gilded floats and puppet shows.
This is certainly different to busy Tokyo.
Our Ryokan (hotel) - Ryokan Tanabe is traditional Japanese rooms, with hot spring baths.
Our first night Adele and I had a wonderful hot spring bath, the men and women don't bathe together, lots of rules on the process of bathing, must be nude, use large towel to dry yourself, smaller towel to wash, you shower and wash then hop into the large community bath. It is hot but you feel pretty good after it, We dressed for dinner in our Kiimonos, dinner was in our room and served by an older geisha, the food, presentation was fantastic. After dinner we found a bar and had a few local beers and sake. When we got back our table had been moved and our bed was placed where the table had been, a very thin mattress with a doona and a very small pillow was our bed.!
I think I managed a few hours sleep, Don ended getting up earlier in the morning and slept in the chair, we really should have had more sake!
7am knocking on the door with a number of voices saying bed make up time, Three people raced in rolled up the mattresses and doonas replaced the table and then proceeded to set it up for breakfast. No toast here! Rice, miso, fish and plenty of condiments to mix i, it was delicious. A lot of love went into setting the table for dinner, breakfast and presenting the food. Later that morning we found a local market, and decided to visit of few shrines, musuems and do a bit of shopping and explore around . We were wondering why there were a lot of shops and museums closed, Guess! Tues not many places open.
Had a little rain but temp a bit humid, temp around 23.
Diary Photos
---