S/V Priscilla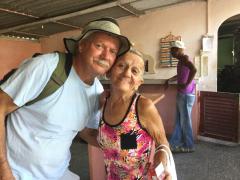 18th Mar 2016 - 17th Apr 2016
Cuba!
I still can't upload photos yet, but will keep trying! We went to the Rolling Stones concert, which was an interesting experience. Marnie is here now so we are going traveling with them this week.
We finally arrived in Cuba! We are in Marina Hemmingway, about 10 miles west of Havana proper. We explored old town on Saturday but have stayed in the suburbs the last couple of days. Obsma is in town so it is probably very crowded in Havana Viega. Also, we have had extremely strong north winds the past two days. We have been staying close to the boat to keep an eye on it because the dock is rough cement. Good fenders are essential. We plan to travel a bit by land before we leave the marina. I will update the blog and load photos when possible.
We have spent hours wandering the streets of Old Havana, stopping in cafes to have a bite, a mojito and listen to music. The musicians are all very good, and every group seems to sell a CD. The weather has turned quite hot and we search for a seat in the shade. At night we are happy to be in a marina where we have electricity to run our air conditioner. It's hard to believe that a week ago we slept under a blanket and wore jackets! It must have been the polar vortex which brought a cool strong north wind.
Yesterday we hired a taxi for the day and went to Vinales, which is about 2 hours west of Havana. It is an agricultural area but it is best known for the unusual limestone hillocks which were formed 160 million years ago. Over the years rainfall dissolved the limestone and created this unusual landscape in this beautiful valley.
We stopped at a tobacco farm and wandered around marveling at the ancient farm equipment and the birds, rabbits and pigs. We walked through the tobacco drying barn, which smelled great! The male peacock felt we were threatening his flock, so he showed us his full and glorious plumage and pranced around.
Tom used to smoke the occasional cigar with friends, but he hasn't had one in years. However since we've been in Cuba he has developed a keen interest in them. We tried to find the Cohiba factory but learned that it is only open to visitors by appointment. There are other factories around town that are open to tourists, but in the meanwhile we went to the Tobacco Museum and he bought cigars from the official store. Supposedly they are genuine. The street hawkers sell cheap versions of the good brands.
To make a long story short, Tom bought cigars at the farm and said they were better than the cigars he bought at the official store. The cost was $40 for 20 cigars, less than half the price at the Museum Store, but Tom traded a baseball glove and ball for them. The farmer thought he got a very good deal! Tom has also sampled the local ones which cost 4¢ each and they are also very good.
The best food we've found is in a local restaurant that most people would be afraid to enter, let alone eat the food there. But it is quite good and we have not gotten sick. The prices range from 75¢ to $1.50 per meal, sodas and beer are extra. The are many flies in the restaurant, but not as many as I've seen in expensive bakeries in Zermat, Switzerland! Yesterday we had a nice lunch overlooking the Vinales valley, soup, salad, rice and beans and a main dish. Tom had grilled chicken and I had ropa vieja, shredded beef in a vinegar sauce. That meal cost about $16 per person, and it was the second best. The Italian food we had at the yacht club tasted like bland canned spaghetti.
We brought some Cuban money with us and some Euro's, but we should have brought more Euro's. The Cuban government seems to punish Americans by reducing the exchange rate on dollars by about 13%, so instead of getting one Convertible Peso for a dollar, we get 87¢ for a dollar.
Anyone traveling to Cuba should ask their local bank to get Euro's or Canadian dollars. We used PNC and there was no cost and the exchange rate was as quoted on line.
We finally left Havana after an eventful few weeks. It was time to move on if we wanted to get to Panama by June 1. We had already given up on Cartagena, with time slipping by and the weather forecasts precluding any easy passages. Shortly after leaving the marina I decided to send some emails and was horrified to discover that our ship's computer had died. It could not get past the start up page, and the keyboard and mouse would not function so we couldn't do a recovery. No problem because I had set up Tom's laptop with sailmail and had checked to make sure it worked. However, I only checked it out with internet service, not with the SSB radio. Where are the cables to hook it up to the radio? We don't know, but they are not on the boat. This situation was very disturbing, because my means of communication was lost, and so was my access to weather forecasts. Luckily we were able to talk to Chris Parker the weather router each morning on the SSB radio. Also, I had purchased a Delorme, which came in very handy for any emergency messages.
Because the weather was so bad - no wind or huge winds - we motored for a couple of days, then ducked into a bay and spent two nights at anchor waiting for a break in the wind. Finally a few days later we pulled into Nueva Gerona, a quaint little town on the Isla de Juventud. We docked at the Ferry Dock and checked in with the local authorities. It was an interesting experience because the young Guarda Frontera lady who came on the boat did not speak English and our Spanish is severely lacking. She kept asking for our permits, and finally we figured out that the cruising permit that we supposedly had received when we checked out of Havana was not issued. All we had was a receipt to show that we paid for it. Luckily for $5 we could have it issued locally.
Nueva Gerona was a beautiful small town, with a wonderful pedestrian street filled with statues and art. We spent days walking around, eating soft ice cream (15 cent cones that were delicious!) and looking for the fruit and vegetable markets to restock our pantry. We also spent many hours trying to download the drivers we needed to get the laptop working with the SSB radio, but to no avail. Luckily I had my sat phone and my brother kindly activated the service. Now we finally had communication capability and could move on towards Panama. We set off for Cayo Largo, an island along the south coast where we would check out of the country and head for Grand Cayman. We stopped at two islands along the way where we had hoped to snorkel but the wind was very strong, which ruins visibility. Also, I had an infection which kept me out of the water. About this time I was getting very concerned that antibiotics didn't seem to be working, and I hoped that Cayo Largo would have a medical facility. Tom realized how worried I was and asked if I wanted to go back to Florida - the answer was YES! So we backtracked around the west end of Cuba and headed for the USA.
Diary Photos
---