USA 2017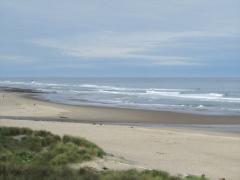 13th Jun 2017
Ta Da. We Made It!!
Before we left Kennewick, we had a few chores to do, such as going to the bank, getting some gas and buying a couple of maps to help us plan the next few days.
We had decided to head south a few miles until we hit the Columbia River, which is the natural boundary between Washington state and Oregon. We decided to stay north of the river for a while, and take the Lewis & Clark scenic route (yes them again, they have been dogging our footsteps since St Louis. I think we told you that they tracked a route across the USA by tracing the rivers.)
The drive was fantastic. The river is much bigger than we had realised. The road was almost empty, and we headed west through some remarkable countryside. We were driving right alongside the river, with the railway track between us and the water. The land rose steeply on our other side, mainly covered in very dry grass. Occasionally we would pass some greener fields that were being cultivated, but mostly it was just rocky.
There were a lot of wind farms, but no real towns- what looked like a town on the map was generally just a hydro station, or a farmers collective silo. Our hopes for coffee were dashed but we were not too bothered.
After an hour or so, we crossed the river into Oregon. Since it was now lunch time we stopped for coffee and cherry pie (and yes, it was damn fine, for those of you who recognise the reference). The ride on the Oregon side was just as interesting. The wind had got up, the clouds came down and we had the odd shower. The river by now was going through a canyon, with rocks towering above us. In the distance we began to catch sight of Mt Hood, taller than anything else, and covered in snow.
When we got to Portland it was very busy, but we just shut our eyes and shot out the other side. Once clear of the suburbs, we saw that we were in wine country,
Again vineyard after winery after vineyard.
The last 30 minutes of long journey were back in a National Forest. We were back amongst the pines, but these ones had thick green moss growing all over their branches. We soon got to the end of the road, and had to turn left or right. We turned left and were soon in Lincoln City, on the Pacific Coast.
We took a chance with getting a room at the local Best Western. We were rewarded with a huge 2 bed 2 bath suite, with a kitchen a balcony and an ocean view, all for a very reasonable cost. Dinner was at a super steak and seafood restaurant just down the road. We then got back to watch the sun go down over the ocean.
Diary Photos
---