USA 2017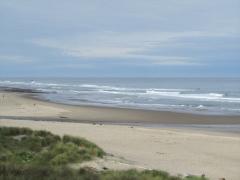 14th Jun 2017
Lazy Days
Got off to a slow start. We were going to hit the shops, but they didn't open until 10.00am so we had a little look at the maps, trying to decide where our next stop will be. Still none the wiser, we decided to have another look tomorrow
There are a lot of antique/ junk shops in the area. We decided to have a browse, knowing we were unlikely to buy anything due to weight/ size limitations.
By then the local outlet mall was open. There is no sales tax in Oregon, so what with that and the sales that are on, there were some bargains to be had.
We hit the supermarket on the way back, and got lunch and dinner as we have a kitchenette at this motel.
By now Richard needed a lay down. Linda got the laundry done and ironed.
The cold wind from this morning had died down, the sun was shining and the tide was coming in, so we decided to hit the beach for a stroll. The waves are quite big and the water is freezing! After getting a way up the beach we found a large piece of driftwood to sit on while we sat and watched the world and his dog go by.
Diary Photos
---