USA 2017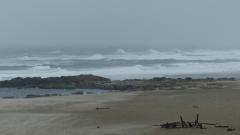 15th Jun 2017
Horizontal Rain- Reminds Linda of Dartmouth
Some days the weather decides what you're going to do or not do. 
The sea is fairly wild today, the wind is very strong, visibility less than a quarter of a mile, and the rain horizontal. 
So, today was planning our final stay in Aberdeen for 2 nights before arriving in Seattle for 3 nights, then train 2 nights, then Chicago 2 nights, then train 1 night, then Washington 1 night, then home. So, still plenty of adventures to come.
We plan on sending a bag back from Seattle with stuff we no longer need and a certain granddaughters and future grandsons presents in, sorry boys you're off the present radar now.  So spent the morning trying to get a pint into a quart pot and filling out endless customs and delivery forms. Bag should arrive home before us, if you're in Andrew. 
A chance to get up to date on laundry and ironing, well all in all just like being at home!!!
Diary Photos
---