USA 2017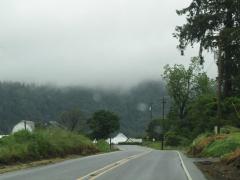 16th Jun 2017
Some Rain, Turning Sunny Later
Woke up this morning to find the sea was still stormy, the mists were still down and it was raining!
We said goodbye to Lincoln City, and headed north. The drive was supposed to be along a scenic route, and on the map it looked like it was going to be along the coast, so we decided to chance it on the off chance of the weather improving. It didn't, and the road was a few miles inland for the first part, going through national forest, but it was very pretty. After an hour or so, we stopped for coffee and had a chat with a nice woman who was a total Anglophile. She was very interested in us, our route, etc and warned us there was a landslide a bit further along the road, so we were able to turn back and find a different route before we went any further.
By now it had stopped raining, so we went a little further before we stopped for lunch at a small town called Seaside. It was a bit touristy but we found a diner that was ok. We also found a monument to Lewis and Clarke as we were very near to the mouth of the Columbia, where their journey ended.
We were soon on a huge bridge going over the Columbia River into Washington State again.just over the bridge was a rest area called Dismal Nitch. It is just a couple of miles from the Pacific, but Lewis and Clarke got stuck here for 6 days during a particularly violent storm. This was the name given to the area by them as they were obviously feeling a little frustrated!
The sun was now out, the land became more open again and before we knew it we were in Aberdeen, our home for the next couple of nights.
As we had eaten a large lunch we decided not to have dinner, but to walk along to Walmart a couple of blocks away, and get some snacks. We crossed the railway tracks, got our shopping and walked out to see a really long goods train going through. A lot of locals realised that they were not getting out of the car park any time soon, but there was a riverside path along the side of the tracks where we found we could walk under the tresses and get into our hotel the back way. By the time we had done that, we were just in time to see the last part of the train go by, of course!!
Diary Photos
---