USA 2017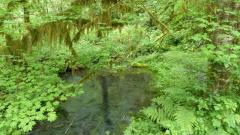 17th Jun 2017
A Walk in the Park
The park was the Olympic National Park, and the walk was through the Hoh National Rainforest.
It was a nice dry morning, so we decided to head off to the rainforest. It was a 2 hour drive but the roads were empty, and the countryside was pretty. The verges are full of flowers such as daisies, gorse and foxgloves. We went through towns with names such as Humptulips and Queets. A part of the drive was along the coast, and we could see that the sea was still pretty rough. We got excited when we saw the Hoh River, and the turn off for the park, little realising that it was another 12 miles to the park entrance up a narrow lane and a further 6 miles beyond that to the visitors centre!
We had stopped and got a packed lunch on the way as we knew from past experience that there would be no food or drink available to buy in the park. A quick picnic in the car and we were ready to go.
There are 2 main trails to follow. The first one we did was about 1.2 miles long, and fairly flat. It was called the spruce trail. The scenery was like something from Jurassic Park. There are several types of tree, mainly Western Hemlock, Alder and different species of Spruce. Every tree is covered in mosses and the floor is covered in rotting trees, fallen branches and many varieties of ferns. There are creeks and streams of crystal clear water with salmon fry in them. The main river, the Hoh is glacial and therefore slightly blue, but not as turquoise as the ones in the Canadian Rockies.
The second trail was the Hall of Mosses and was only about 0.8 miles, but was a little steeper. The scenery was the same again, but we were warned to look out for an aggressive Elk with her calf who was in the area, but she decided not to mess with us!
A couple of hours later saw us back in the car, and headed home, just as the rains began. We emptied the car when we got back. It is being returned tomorrow, so everything needs to go into suitcases from now on. Dinner was at the local Mexican eatery, an interesting experience.
Diary Photos
---