USA 2017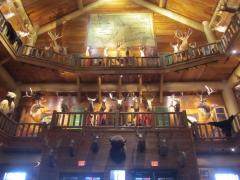 18th Jun 2017
Sleepless in Seattle- We Hope Not
Up and about early this morning, which meant we could have a quick chat with Mimi. We then had to try to get all our possessions into our suitcases and backpacks, before we gave the car back. No more throwing everything in the boot to be sorted another day!
In theory the drive was only going to be a couple of hours, but we had heard rumours of roadworks, rain and a possible marathon so decided to just go for it. We did have to drive right by one of Richards favourite hunting, shooting and fishing shops so called in as we had time to spare. Came out with 3 t-shirts and a hat which we then had to try to pack somewhere. Turns out this hotel is quite smart and we didn't really want to turn up looking like bag people with lots of carriers.
Back on the road meant that we soon found the 9 miles of roadworks. The biggest problem was that 5 lanes of traffic had to filter down to 2 lanes. Once over that problem it wasn't too bad- slow but moving.
Seattle traffic is crazy, especially since it was early Sunday afternoon. Thank goodness for little miss satnav! Handing the car back was easy with a really nice guy chatting to us and even calling a cab for us. Our final mileage came in at 5228 miles. This works out at roughly 174 miles per day.
The hotel is as grand as we expected!! Must have a word with the travel guy when we get back, as it is wasted on us. We will have to pay for internet unless we go down to the lobby, where it will free. First time that has happened since we left Washington DC.
Best thing about our 15th floor room is the view, which looks straight at the Cheesecake Factory (a restaurant, for those of you who do not watch The Big Bang Theory). Richard's hoping to meet Penny there tomorrow night, (in his dreams.)
After a sit down with a cup of tea, we set off to explore. Ended up at Pike Market. This is a real market, mainly selling fish and flowers, but with a lot of touristy shops, restaurants, bars etc. It is down on the waterfront so our dinner table had a view of the bay.
Diary Photos
---