USA 2017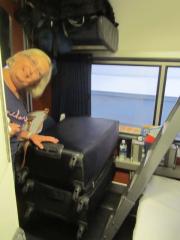 22nd Jun 2017
Stuck on the Train
So, we left with Richard tucked up in bed 4'6" in the air. He didn't stay long as the creaking, swinging and swaying caused by being across the top of the double decker train meant he realised he was never going to sleep up there!
He tries squeezing in the small double with Lin but said that was no better! He climbed back up and Lin then decided to go to sleep and let him sort it out
Every bank that the train took is exaggerated when you're nearly 20ft above ground, so the blood rushed to his head or feet, every time the train braked or accelerated had you thrown against the wall or up against the strapping that supported the bunk and stopped you falling out, and the bumps in the track sometimes gave you that weightless feeling.so sleep just didn't happen but he did read an awful lot.
Lin dozed fitfully and gave up at 5.30 am and looked out of the window to see a beautiful river, that we followed for miles. A little voice said he was coming down as he was above the window and was missing it all. A look at the on board timetable showed us that we were in Montana, and thus in another time zone. That instantly made it much better.
We decided to get up as we still had the excitement of trying to shower in a cubicle 3ft by 2'6", with a toilet taking up some of the space. Richard went first and managed fine, but since the bed was still pulled out he had very little room to dry or dress himself. Lin was next and managed ok except that she hadn't bothered reading the instructions so didn't realise that you only got 30 secs of water at a time. By the time the hot water had come through it was gone again. Kind Richard had put the bed away so she had a little more room.
After breakfast it was back to the room. We were going through Glacier National Park and the scenery was stunning. Unfortunately Richard missed it all as now he decided he could sleep!
Almost the whole day was spent watching Montana drift by. The landscape changed- we said goodbye to the Rockies and hello to endless flat wheat fields and grass for cattle. While we were eating dinner we crossed into North Dakota and another time zone. We had been wondering what to do all evening as it was only 8.00 pm and suddenly it was 9.00 pm and getting dark.
We are already seeing signs of oil or gas production and apparently if we are awake tonight we should see the lights from the fracking fields.
Diary Photos
---