USA 2017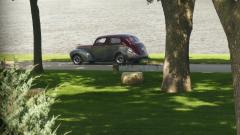 23rd Jun 2017
Just What You Need After a Long Journey
Okay, so the sleeping system that seemed to work for us was top and tail. Spooning was too hot and not really enough room. Sorry if that is too much information. Even then we only managed 7 hours of quite disturbed sleep. But, better than last night.
Woke up to find we were in Minnesota. It was mainly farmlands with lots of big wide empty roads. Before too long we were in Minneapolis St Paul's ( aka The Twin Cities) where we found ourselves alongside the Mississippi River. Technically Minneapolis is one side of the water and St Paul's the other, but it is one big sprawling mass. The Railway station is know as Midway. It is not only midway between the two cities but is also midway between the Equator and the North Pole (allegedly- we have not checked that).
We followed the Mississippi for a couple of hours. We saw quite a few small fishing boats but the water looked quite choppy so they may not have been having much fun. In places the tributaries looked the colour of melted chocolate, which made the main river look very murky. However, it is so big it soon cleared itself. There were a lot of swampy areas along the edges so we amused ourselves looking for gators. No joy, but we did see a few Bald Eagles.
We seem to have had a few unscheduled stops over the last couple of days. Some have been for technical issues and some have been to hitch or unhitched extra coaches. We have a nasty suspicion that we may be a couple of hours late, although they keep shaving time of the stops in an effort to catch up a little. Some people have connecting trains to catch and must be getting a little worried. This is exactly why we extended our stay in Chicago.
We have now had our last meal on board. The food has been ok but they have a very limited menu. They do not appear to restock along the way as they are beginning to run out of some supplies. However, the best part of mealtimes has been that we get to sit with somebody different at each sitting. They have all been pleasant and interesting to talk to.
We are now in Wisconsin and will be crossing into Illinois in a couple of hours.
Got into Chicago about 90 minutes late. This had gradually accumulated over the 2 days as we stopped to pick up extra carriages and drop them off later. We said our goodbyes to Mary who had been our attendant for the 2 plus days we were on the train. She made up the beds, put them back again, sorted any questions/problems and sometimes just dropped in for a chat. We got off to a good start the first night when Richard said that the safety bed rail looked like some sort of bondage equipment! That tickled her and we soon had banter going all the time. She certainly made the journey go a little quicker. She was our age and worked extremely hard. She had a stopover in Chicago and takes the train back to Seattle Saturday night.
Arrived in Chicago about 5.30 so everything was very busy, it being Friday night. The hotel is very grand (or thinks it is). We got dropped at the kerb but there were no bell boys to take the bags. We wandered in looking for reception. Had to go all the way to the back of the hotel before we saw a sign that said reception was upstairs! Finally found the lift, then had to look for the front desk. It was hidden around the corner behind some large pillars. Couldn't hear the counter clerk as live music was playing in the lobby! After struggling to find the lifts with suitcases, backpacks etc we eventually got to our room, dying for a cup of tea, coffee or something.
That was a big disappointment. It is very small and dark. The view is of the service yard seen from the 12 th floor. Internet is chargeable, there is not even room for an armchair and there is no coffee machine, cups etc. We went back downstairs as sometimes wifi is free in the lobby. Technically it is but we could not get it going. There is a communications centre with some old style grubby computers so we did a quick catch up, ordered a coffee machine (which it turns out is available but only if you ask for one) and hit the pub next door for dinner and a much needed beer.
Diary Photos
---