USA 2017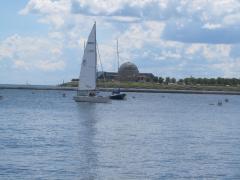 24th Jun 2017
My Kind of Town?
Set off this morning to go to the Planetarium. We had it recommended to us last time we were here but never made it. It was a lovely sunny warm day so decided to walk the mile or so along the shore of Lake Michigan. A lot of the walk was in the park. As it turned out to be warmer than we first thought, we were grateful for the shade.
The Planetarium is on one spit, next to the aquarium and is all very nicely landscaped. The entry fee (seniors rates of course) entitles you to up to about 5 shows under the dome which you watch on the ceiling in reclining seats. We saw one show about the story of astronomy through the ages. The second one was all about the night sky, and the stars you will see tonight in Chicago.
We decided to skip the rest. We were still so tired that we were in danger of falling asleep while laying stretched out in comfortable arm chairs.
We took the Ferry across the bay to the other spit to Navy Pier, the local tourist trap. We mainly wanted an ice cream as we had skipped lunch. The walk back to the hotel turned into a bit of a marathon.
Dinner tonight was at the same pub we went to last night. Big mistake sometimes to return to the scene of a good meal. We decided to treat ourselves to steak. They were ok, but not as good as many that we have eaten in the USA. Richard was further disappointed by the fact that the upstairs dining area, where we were seated did not have the full and extensive range of beers that he had been able to choose from last night. They obviously do not feel able or inclined to carry some beers upstairs.
Diary Photos
---