USA 2017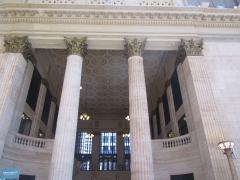 25th Jun 2017
Trains and Boats and...
It was another sunny day but slightly cooler than yesterday. This suited us just fine. We checked out of the hotel, put our bags in hotel storage and decided to head for the railway station first. When we arrived on Friday we noticed that Union Station was vast and very confusing as it was built in two locations, joined by a tunnel under the road. The signs for Amtrak had been confusing, we couldn't find the lift and didn't want to drag heavy cases down the stairs. Since we fancied stretching our legs, we decided to do a recce rather than stress too much when it is time to get on the train.
As usual in Chicago, we ended up going the long way round. The map the hotel had given us was useless, not even showing the railway station. We found it eventually, sorted out where we would be going later and realised that the water taxi stopped there. Since it was just leaving we jumped on and headed to Navy Pier.
The sun was now a lot warmer and we realised that cleverly we had left the sunscreen in the bag at the hotel. An ice cream soon cooled us down so we decided to do the Architectural Boat tour that takes you right through the middle of the city, looking at all the skyscrapers. We did the trip 2 years ago, but every guide has different favourites so the commentaries are always different. It was a lovely day and the scenery was great- very relaxing before the stress of the train.
We walked back to the hotel, stopping for coffee on the way, collected the bags and got to Union Station by cab with no problems. Thanks to our research this morning, we knew that as seniors we were entitled to wait in a separate lounge with complimentary drinks, snacks etc and had priority boarding. This was important as we had decided to travel light this time. We had packed our backpacks with a few toiletries and a change of clothes. The plan was to put the suitcases in the luggage racks downstairs where we could see them rather than book them into the baggage hold. The space is limited though.
We were almost the first on the train so stowed the bags. Our room is identical to the last one, but seems so much bigger as we have no cases to get in the way. There was a small delay boarding us, but nothing too great. The train was due to leave at 6.40 pm. We were booked in the 7.00 pm dinner sitting, and were slightly surprised to find that the menu was identical to the one on the train last week. We knew that the steak was likely to be good so opted for that- we were not disappointed. We chatted to a very nice couple from Denver and suddenly realised that it was 8.00 pm and we were still in the station!
There were a lot of Shaker/ Quaker/Amish/Mennonite people on the train again. Somebody said that since driving or flying is seen as using tools, which is frowned upon, the train is their preferred method of transport. He was not able to explain the difference of how riding a train is ok but a plane isn't. They are not in our coach, so maybe we will never know!
We eventually left about 90 minutes late. One rumour is that there was problems with the air conditioning but as no announcement was made we do not know for sure.
We went through the outskirts of Chicago then got a final glimpse of Lake Michigan. We got to South Bend Indianapolis at 9.30 where we were told we had crossed another time zone. We are now back on Eastern Standard time, 5 hours behind you and exactly where we were 6 weeks ago. This, of course, meant it was now 10.30 so the attendant made our bed up. Getting ready for bed was a little easier as without the bags there is almost room to swing a cat!
Diary Photos
---