USA 2017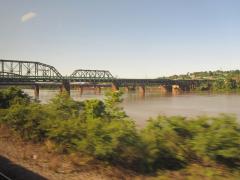 26th Jun 2017
Shake Rattle and Roll
Well that was an interesting night! We went through a lot of big cities, like Toledo and Cleveland. That meant lots of crossing, therefor lots of whistles. This train is a LOT bumpier than the last one. We seemed to be going a lot faster, therefore had a lot more swaying. Not sure if we have a learner driver, or just not such a good one, but he seemed a bit heavy on the brakes sometimes. Going through all the cities seemed to mean more points, so therefore a lot more turbulence and a lot more flashing lights as we sped by. Got some sleep, but not enough to feel rested.
Had breakfast with an elderly couple who were going to a model train exhibition in Pittsburg. He is a keen modeller. He built his own home about 5 years ago and designed it with a large basement especially for the layouts. He showed us some photographs of the tracks, etc. It is 1000 sq ft of track which is 2 1/2" to 3" wide. It was amazing.
Looking at the timetable we realised we were a lot more than the 1 1/2 hours late. We ended up 3 hours late, no apologies and no explanation. Pardon me, the final announcement did mention the word 'apologise'. There was some fantastic scenery along the way, the Alleghenies and Pittsburgh looked particularly nice, from the train.
We reached our Holiday Inn hotel which is lovely and has everything we want. Although We have a sneaky suspicion we just heard a train whistle, although it could still be the reverberations in our ears. We managed to reserve our seats with BA and are travelling back on the upper level of an Airbus A380. The hotel has a restaurant and as we had plenty to do, such as packing etc. we made use of the facility and were surprised, it was one of the better meals we have had in America.
Diary Photos
---