Waynes RV Travel Blog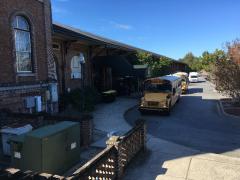 30th Oct 2017 - 2nd Nov 2017
Savannah, GA
I really don't know how to write this entry about Savannah. Old Town Savannah is difficult to describe in words, being there and seeing the architecture, landscaping and, of course, the Live Oak trees which are everywhere is the only way to do it justice. The best time to visit Savannah is in March or April of the year as the azealeas and wisteria are in full bloom, and the temperature and humidity are good.
Like Charleston, Savannah has added a huge container seaport since we visited it in the 70's. We met our friend Beverly from Summerville there a few years ago. I wasn't aware of the container port, we we walking along the riverfront downtown and I caught a movement out of the corner of my eye. I looked toward the river and here a couple of hunderd feet way was one of those monsterous container ships sliding quietly up the river. The word monsterous doesn't these ships justice either as it towered over the buildings on the riverfront.
Savannah is certainly a tourist town, 14 million visitors last year, but they have made it easy to get around. Everything from free east/west, north/south shuttles, rental bicycles and all kinds of walking, carriage, and tram guided tours. I'm sure that I missed seeing a lot of what Savannah has to offer, after all I only had a week to cover it all. One thing that I made special effort to visit was the 'Mightly Eighth Air Force' museum. Here's a link:
On Dale's recommendation I read the book ' Midnight in the Garden of Good and Evil' which was set and about Savannah. I found that there was a narrated walking tour based on the book. The guide, who was very knowledgeable about the book,was made a living as a free-lance writer. It was an interesting 2 hour tour which took our group of five to most of the houses, parks, and other establishments of importance in the book.
Diary Photos
---